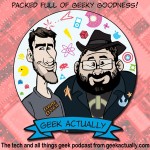 Hosted by: David McVay & Josh Philpott
This week on the all new Geek Actually we talk about Apple's new iPad 2, computer printed cars, CrimeBook, The U.S. Navy's killer laser weapon, voice control for gamers, naked therapy, plastic wrapped bananas, the banning of Mortal Kombat and we also have a long opinion piece about the future of computing. So sit back, grab a snack and let's geek out!
A new year and a new structure, Tech Actually and the Geek Actually After Show have fused like Brundlefly and been reborn simply as the all new Geek Actually. All the Tech and geek goodness that you have come to expect from the old shows wrapped up and made easier to swallow as one simple, little, tasty podcast. DeltaKnight (AKA DAvid Murray) continues to supply us with some of the geekiest stories on the web and Josh and David love to play with the tech news.
Please Note: The new Geek Actually replaces Tech Actually and the Geek Actually After Show so if you only subscribe to Tech Actually you need to go to iTunes and subscribe to Geek Actually by clicking here.
Geek Actually is recorded live on Saturdays around 12pm (AEDST UTC+11). Go to geekactually.com/live to watch it live.
Your show notes follow:
Geek Tech
The iPad 2 and iOS 4.3 announced, are they worth it?
http://www.apple.com/au/ipad/ & http://www.apple.com/au/ios/
Let's print out a new car.
http://www.news.com.au/technology/printer-prints-out-fully-functioning-hybrid-car/story-e6frfro0-1225947388541
Listener Claro Tungul sent this in: The anti-social nework – CrimeBook!
http://www.smh.com.au/technology/technology-news/the-antisocial-network-boys-jailed-for-26m–crimebook–scam-20110303-1bfxw.html
Ruslan Kogan says all retailers are Apple's bitch.
http://delimiter.com.au/2011/03/01/store-retailers-apples-bitch-claims-kogan/
14 ways to replace your wallet.
http://www.gizmodo.com.au/2011/03/14-ways-nfc-will-replace-your-wallet-with-your-phone/
And this kind of leads us into our opinion piece, a discussion about the future of computing. What's the next big computer watershed idea? Are computers as we know them a thing of the past? Are geeks like us a dying breed as computers become more and more mainstream? What is the future of eCommerce? For this discussion piece we opened the phone line live for the first time and it was fun to hear your thoughts.
Geek Stuff
Penthouse launches 3D channel, now I want a 3D TV :-)
http://www.geekologie.com/2011/03/penthouse_first_to_launch_3d_p.php
Forget motion controllers, here comes voice control…pew pew!
http://www.geekologie.com/2011/02/pew.php
We have the lasers to go with last weeks anti-lasers! Necessity is the mother of invention.
http://www.geekologie.com/2011/02/serious_pews_new_navy_superlas.php
Don't believe in therapy? This might change your mind…or not.
http://www.geekologie.com/2011/03/naked_therapist_strips_during.php
Lybia didn't go the Facebook/Twitter route for their protests, they went to online dating.
http://www.gizmodo.com.au/2011/02/forget-facebook-and-twitter-libyan-protestors-aided-by-muslim-dating-site/
And finally…
"Mortal Kombat" banned in Australia but the Wii's sex game "We Dare" is given the OK, what the hell?!?!?
http://www.geekologie.com/2011/03/new_mortal_kombat_banned_from.php
Weird Food!
Because Bananas just aren't fresh enough.
http://www.geekologie.com/2011/03/idont_get_it_plasticbagged_ban.php
Geek Picks of the Week
Every week Josh and/or I will give you our geek picks of the week, these could be anything from iPhone apps to a great sandwich recipe (more likely to be an app though). This week we also got a couple of suggestions from DeltaKnight.
DeltaKnight's Picks of the Week – "Frotz" (Universal for both iPhone & iPad) by Craig Smith: it is Free and "TV + Movie Guide Australia" (Available for both iPhone and iPad) by eBroadcast: $2.49 each. Josh's Picks of the week – "Hot Springs Story" (for iPhone) from Kairosoft Co. Ltd: $4.99 and "Speedball 2: Evolution" (universal for iPad and iPhone) from Tower Studios: $4.99. David's pick of the week – "Sand Slides" (Universal for iPhone & iPad) from Logik State: it is free.
As always this episode carries an explicit tag due to possible bad language.
Listen or download it here or subscribe to it on iTunes
Podcast: Play in new window | Download
Help Support The David Storms America Tour – check the donations link on the sidebar. Find out more about this here.
If you have any comments about the episode or really geeky links, please leave them in the comments field below or email us at feedback@geekactually.com or send us a voicemail at 02 8011 3167 or Skype ID: geekactually (If you'd prefer to send an mp3 voice mail, mail it to the email address above and make sure the file is under 10mb.). If you are an iTunes user, please leave a review.
Like to geek out at the movies? Listen to our movie show, Film Actually. You can listen to it on the site or subscribe to it on iTunes.
Join us on our Facebook Fan Page: facebook.com/GeekActually
Make sure you check out our new range of Geek Actually swag at cafepress.com.au/geekactually
The Reel Junkies podcast can be found at weekendronin.com
Find out about Josh's other site and to listen to his other show DLC Live go to RawDLC.com
Our cover art by Josh Spencer attackninja.blogspot.com and our opening theme is by Grant Noy.