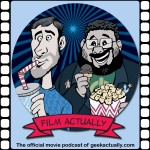 Hosts: David McVay & Josh Philpott
This week we review the new Philip K. Dick adaptation "The Adjustment Bureau". We also take a look at a few entertainment news items including the new "Arthur" trailer, Mark Wahlberg's future plans, "Superman: The Man of Steel" and TV's "Wonder Woman" casting news and the trailer for the new "Tron Uprising" TV series. All this and a brand new Lists of Five: Five Mind Bending Films. So sit back, grab the popcorn and enjoy. Film Actually is the official movie podcast of geekactually.com.
*Update 31/07/2012 – Film Actually was a split off from the main Geek Actually show and originally maintained numbering continuity with that show. That logic no longer works as the shows have become two unique entities, so we have gone back and re-numbered the Film Actually shows to reflect their true episode number. This show is now officially episode 30 but when you listen to the show you will hear it referred to as episode 122, this is why. Sorry about any confusion or inconvenience.
Film Actually is recorded live every Saturday. Go to geekactually.com/live for the schedule and to watch it
Your show notes:
Feature Film Review
'The Adjustment Bureau' written and directed by George Nolfi based on the short story "Adjustment Team" by Philip K. Dick. It stars Matt Damon, Emily Blunt, Anthony Mackie, John Slattery and Terence Stamp.
Do we control our destiny, or do unseen forces manipulate us? On the brink of winning a seat in the U.S. Senate, ambitious politician David Norris (Damon) meets beautiful contemporary ballet dancer Elise Sellas (Emily Blunt), a woman like none he's ever known. But just as he realizes he's falling for her, mysterious men conspire to keep the two apart. David learns he is up against the agents of Fate itself, the men of The Adjustment Bureau, who will do everything in their considerable power to prevent David and Elise from being together. In the face of overwhelming odds, he must either let her go and accept a predetermined path…or risk everything to defy Fate and be with her. – Source: Universal Pictures (shortened by me)
Our Verdict: A good film with solid acting and great chemistry between the two leads. More a romantic drama than your standard Philip K. Dick sci-fi story. Worth watching but some may find it drags in parts.
Watch the trailer: http://trailers.apple.com/trailers/universal/adjustmentbureau/
Entertainment Buzz
Talk about milking it dry, Mark Wahlberg wants to make sequels to the "The Fighter"!
http://www.slashfilm.com/the-fighter-sequel/
The "Arthur" remake gets a second, and slightly better, trailer.
http://www.youtube.com/watch?v=a2v4dwPJ-c0
Ever get than sinking feeling about a movie? "Superman: The Man of Steel" casting news.
http://www.slashfilm.com/diane-lane-cast-martha-kent-superman/
Can't get enough "Tron", check out the trailer for the new animated series.
http://www.youtube.com/watch?v=THcItXSnngA&feature=player_embedded
This project just gets better and better (sarcasm), "Wonder Woman" gets a villain.
http://www.slashfilm.com/elizabeth-hurley-wonder-woman-villain/
Lists of Five
This week our Lists of Five: Five Mind Bending Films.
Just a reminder, because we never like to just make things easy on ourselves, our lists are not necessarily top five lists, they are more or a less a list of film recommendations within the theme of the list. The full lists can be found on our Facebook page.
This episode carries an explicit tag due to infrequent coarse language.
Listen or download it here or subscribe to it on iTunes
Podcast: Play in new window | Download
Geek Actually is currently trying to raise money to send David to America, we call it THE DAVID STORMS AMERICA TOUR. Any amount is welcome. Donations accepted on the sidebar. Find out more by clicking here.
Send feedback for this show to feedback@geekactually.com or leave us a voice mail message to play on the show at (Sydney number) 02 8011 3167 or Skype ID: geekactually (you can also send us an mp3 file if you'd prefer). If you are an iTunes user, please leave a review. Your comments (good or bad) help us improve the show.
Join us on our Facebook Fan Page: facebook.com/GeekActually
Follow David on Twitter: @davidmcvay – Follow Josh on Twitter: @Dogm3at
Get your Geek Actually swag at cafepress.com.au/geekactually
Make sure you check out our other fine podcast Geek Actually for all your geek cuture needs.
David's "My Year With Movies" blog is on Tumbr
Listen to Reel Junkies podcast by going to weekendronin.com
Find out more about Josh's other show, DLC Live, and Movember go to rawDLC.com
Our show logo is by Josh Spencer over at Spencer Cartoons at http://attackninja.blogspot.com/
The closing music this week is "Port Authority at Night" (Track 2) from Thomas Newman's score to "Desperately Seeking Susan".
For information on the Unofficial Geek Actually Movie Club screening times and titles, visit our Facebook page.