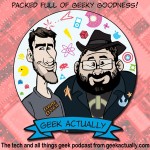 Hosted by: David McVay & Josh Philpott
This week on the all new Geek Actually we talk about iOS 4.3, humanoid androids, tractor beams, Apple's data centre, Australian censorship in online market places, stomach pacemakers, invisible art, space shuttle Discovery's cool ass wake up call, Aussie pirates and an Australian Kick-Ass style superhero. So sit back, get comfy and let's geek out!
A new year and a new structure, Tech Actually and the Geek Actually After Show have fused like Brundlefly and been reborn simply as the all new Geek Actually. All the Tech and geek goodness that you have come to expect from the old shows wrapped up and made easier to swallow as one simple, little, tasty podcast. DeltaKnight (AKA DAvid Murray) continues to supply us with some of the geekiest stories on the web and Josh and David love to play with the tech news.
Please Note: The new Geek Actually replaces Tech Actually and the Geek Actually After Show so if you only subscribe to Tech Actually you need to go to iTunes and subscribe to Geek Actually by clicking here.
Geek Actually is recorded live on Saturdays around 12pm (AEDST UTC+11). Go to geekactually.com/live to watch it live.
Your show notes follow:
Geek Tech
Impending Robot Apocalypse News
The Japanese have created the realistic looking android to date!
http://www.geekologie.com/2011/03/die_creep_most_realistic_human.php
For some reason we just keep on teaching them to get smarter. Computer lawyers.
http://www.gizmodo.com.au/2011/03/move-over-watson-here-come-the-computer-lawyers/
General Tech
iOS 4.3 is out, what do we think?
http://www.apple.com/au/ios/
To quote Charlie Sheen "Duh!" A new study says lower piracy by lowering prices.
http://www.geeksaresexy.net/2011/03/08/report-claims-lower-prices-the-only-solution-to-global-piracy/
Do we finally know what Apple's data centre is for? Possibly unlimited iTunes downloads.
http://www.bloomberg.com/news/2011-03-04/apple-said-to-negotiate-unlimited-downloads-of-music-purchases.html
Our Australian government now wants to censor the Android and Apple app stores!
http://www.theregister.co.uk/2011/03/09/oz_gov_to_censor_app_stores/
George Holtz's court battle with Sony over PS3 hacks gets downright dirty.
http://www.wired.com/threatlevel/2011/03/geohot-site-unmasking/
25% of Aussie's download illegal content… there may be a a lesson to learn here industry.
http://www.channelnews.com.au/Content_And_Management/Industry/W4Q2F7Q4
There is a reason Apple has such control over the App Store. Malware found on apps in the Android market place.
http://www.guardian.co.uk/technology/blog/2011/mar/02/android-market-apps-malware
Who knew we relied so heavily on GPS?
http://www.gizmodo.com.au/2011/03/gps-chaos-how-a-us30-box-can-jam-your-life/
Geek Stuff
The Speaker of the Legislative Assembly, Richard Torbay is a buzz kill man!
http://finance.ninemsn.com.au/newsbusiness/aap/8222053/woman-asks-boss-for-approval-to-play-facebook-games-at-work
Invisible art, this is cool.
http://www.gizmodo.com.au/2011/03/take-a-picture-hides-infrared-artwork-in-plain-sight/
What is wrong with the Japanese????
http://www.geek.com/articles/geek-cetera/japan-develops-a-mobile-phone-with-human-like-skin-2011034/
Space Shuttle Discovery's wake up call… so cool!
http://www.geeksaresexy.net/2011/03/07/discovery-shuttle-wakeup-call/
A new patent might be the answer to our battery woes.
http://www.gizmodo.com.au/2011/03/students-cpu-patent-could-save-your-mobile-batterys-ass-in-the-future/
I agree with the police, leave the crime fighting to them Captain Australia.
http://www.couriermail.com.au/news/captain-australia-is-queenslands-first-superhero-and-has-vowed-to-clean-up-the-streets-of-brisbane/story-e6freon6-1226015976662
Weird Food!
A stomach pacemaker, what could possibly go wrong with this idea?
http://www.gizmodo.com.au/2011/03/pacemaker-zaps-stomach-internally-to-prevent-overindulging/#more-442609
…and to finish us off today, a moment in history.
In 1993 playwright and Internet enthusiast John Allen made this prediction. How wrong you can be…
http://www.geeksaresexy.net/2011/03/09/the-most-inaccurate-prediction-about-the-internet-ever-1993/
Geek Picks of the Week
Every week Josh and/or I will give you our geek picks of the week, these could be anything from iPhone apps to a great sandwich recipe (more likely to be an app though). This week we also got a couple of suggestions from DeltaKnight.
Josh's Picks of the week – "New Puzzle Bobble HD" (for iPad) from Taito Corporation: $3.99. David's pick of the week – "iOS 4.3" (for iPhone & iPad) from Apple: it is free. "Garageband" (for iPad) from Apple: $5.99.
As always this episode carries an explicit tag due to possible bad language.
Listen or download it here or subscribe to it on iTunes
Podcast: Play in new window | Download
Help Support The David Storms America Tour – check the donations link on the sidebar. Find out more about this here.
If you have any comments about the episode or really geeky links, please leave them in the comments field below or email us at feedback@geekactually.com or send us a voicemail at 02 8011 3167 or Skype ID: geekactually (If you'd prefer to send an mp3 voice mail, mail it to the email address above and make sure the file is under 10mb.). If you are an iTunes user, please leave a review.
Like to geek out at the movies? Listen to our movie show, Film Actually. You can listen to it on the site or subscribe to it on iTunes.
Join us on our Facebook Fan Page: facebook.com/GeekActually
Make sure you check out our new range of Geek Actually swag at cafepress.com.au/geekactually
The Reel Junkies podcast can be found at weekendronin.com
Find out about Josh's other site and to listen to his other show DLC Live go to RawDLC.com
Our cover art by Josh Spencer attackninja.blogspot.com and our opening theme is by Grant Noy.