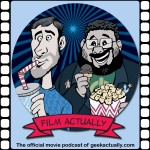 Hosts: David McVay & Josh Philpott
This week we review "Battle: Los Angeles". We also take a look at a little entertainment news including Darren Aronofsky pulling out of "The Wolverine", the remake of "The Incredible Mr. Limpet", the canning of the mo-cap remake of "Yellow Submarine" and the new trailers for "Conan the Barbarian" and "Friends with Benefits". All this and a new DVD competition and a brand new Lists of Five: Five "The Aliens Are Here!" Movies. So sit back, roll some Jaffas down the aisle and enjoy. Film Actually is the official movie podcast of geekactually.com.
*Update 31/07/2012 – Film Actually was a split off from the main Geek Actually show and originally maintained numbering continuity with that show. That logic no longer works as the shows have become two unique entities, so we have gone back and re-numbered the Film Actually shows to reflect their true episode number. This show is now officially episode 32 but when you listen to the show you will hear it referred to as episode 124, this is why. Sorry about any confusion or inconvenience.
Film Actually is recorded live every Saturday. Go to geekactually.com/live for the schedule and to watch it
Your show notes:
Feature Film Review
'Battle: Los Angeles' directed by Jonathan Liebesman and written by Christopher Bertolini. It stars Aaron Eckhart, Michelle Rodriguez, Ramon Rodriguez, Bridget Moynahan, Cory Hardrict, Gino Anthony Pesi, Ne-Yo, James Hioyuki Liao, Noel Fisher, Adetokumboh M'Cormack, Bryce Cass… and a lot of other TV Actors and unknowns that you have probably never heard of.
A group of marines are sent into the alien invaded, battle torn Los Angeles to rescue some civilians before a planned air strike levels the city. Problems arise when the extraction helicopter is destroyed and the marines and civilians have to make their own way out of the city.
Our Verdict: Josh was disappointed and doesn't recommend it. David enjoyed the film for what it was, a loud boy film that offers no substance but is fun.
Watch the trailer here http://trailers.apple.com/trailers/sony_pictures/battlelosangeles/
Entertainment Buzz
Richard Linklater to remake "The Incredible Mr. Limpet", interesting choice.
http://latimesblogs.latimes.com/movies/2011/03/richard-linklater-incredible-mr-limpet-don-knotts-remake.html
First "Conan The Barbarian" teaser hits, and it is a snoozer!
http://geekactually.com/2011/03/13/teaser-trailer-conan-the-barbarian/
Darren Aronofsky pulls out of "The Wolverine", now we have a reason not to watch it.
http://www.hollywoodreporter.com/news/darren-aronofsky-bows-as-wolverine-168827
Edgar Wright offered and passes on directing an ep. of "The Walking Dead"
http://collider.com/edgar-wright-walking-dead-season-2/80247/
A sigh of relief, mo-cap "Yellow Submarine" remake dead in the water.
http://www.hollywoodreporter.com/heat-vision/disney-kills-robert-zemeckis-yellow-167415
Mila Kunis has casual sex with Justin Timberlake in the "Friends with Benefits" trailer.
http://www.digitalspy.co.uk/movies/at-the-movies/a309364/world-exclusive-friends-with-benefits-trailer.html
Zack Snyder says his Superman movie is not related to any other Superman movie.
http://www.slashfilm.com/zack-snyders-superman-tied-previous-movie/
Lists of Five
This week our Lists of Five: Five "The Aliens Are Here!" Movies.
Just a reminder, because we never like to just make things easy on ourselves, our lists are not necessarily top five lists, they are more or a less a list of film recommendations within the theme of the list. The full lists can be found on our Facebook page.
This episode carries an explicit tag due to infrequent coarse language.
Listen or download it here or subscribe to it on iTunes
Podcast: Play in new window | Download
Geek Actually is currently trying to raise money to send David to America, we call it THE DAVID STORMS AMERICA TOUR. Any amount is welcome. Donations accepted on the sidebar. Find out more by clicking here.
Send feedback for this show to feedback@geekactually.com or leave us a voice mail message to play on the show at (Sydney number) 02 8011 3167 or Skype ID: geekactually (you can also send us an mp3 file if you'd prefer). If you are an iTunes user, please leave a review. Your comments (good or bad) help us improve the show.
Join us on our Facebook Fan Page: facebook.com/GeekActually
Follow David on Twitter: @davidmcvay – Follow Josh on Twitter: @Dogm3at
Get your Geek Actually swag at cafepress.com.au/geekactually
Make sure you check out our other fine podcast Geek Actually for all your geek cuture needs.
David's "My Year With Movies" blog is on Tumbr
Listen to Reel Junkies podcast by going to weekendronin.com
Find out more about Josh's other show, DLC Live, and Movember go to rawDLC.com
Our show logo is by Josh Spencer over at Spencer Cartoons at http://attackninja.blogspot.com/
The closing music this week is from Brian Tyler's score to "Battle: Los Angeles".