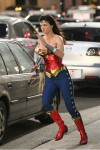 I don't know if they listened to the fans or they just realised that what they had looked like an off the shelf Halloween costume, but the producers of TV's new "Wonder Woman" have fixed the costume up a little. We can see the costume updates from these set photos from the production of the pilot.
Although I still don't think the costume is particularly good, at least it looks a lot better than it did. Gone are the vinyl light blue pants and same coloured boots and in their place a dark blue material pants and red boots.
Now I can at least look at Adrianne Palicki and see Wonder Woman and not have to suppress my laughter.
The photos below show the new costume compared to the original one released last week and an action shot that I assume is Adrianne's stund double.
Source: The Hollywood Reporter