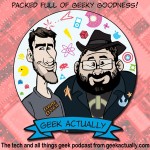 Hosted by: David McVay & Josh Philpott
This week on Geek Actually David and Josh enjoy their weekly geek out with topics including the Geminoid summit, the iPhone bug that won't go away, energy drinks with added mouse, the new Commodore 64, the Taser grenade, 8-bit stockings, Josh's new laptop and the best April Fools prank ever! So sit back, grab your gadgets and let's geek out!
Geek Actually is the fusion of the old Tech Actually and Geek Actually After Show podcasts into an all new show. All the Tech and geek goodness that you have come to expect from the old shows wrapped up and made easier to swallow as one simple, little, tasty podcast. DeltaKnight (AKA DAvid Murray) continues to supply us with some of the geekiest stories on the web and Josh and David love to play with the tech news.
Geek Actually is recorded live on Saturdays around 12pm (AEST UTC+10). Go to geekactually.com/live to watch it live.
Podcast: Play in new window | Download
Your show links follow:
Feedback
ZeddD1abl0 pulls us up on two of last weeks stories. Our bad.
Claro Tungul points us to the Google +1 button
http://mashable.com/2011/03/30/google-plus-one-button/
Geek Tech
In "The Impending Robot Apocalypse News" – Ah, Geminoid you crazy bastards!
http://www.geekologie.com/2011/04/lock_the_door_bomb_the_buildin.php
Deja Vu, didn't we already do this story? Oh wait, they just didn't fix it! iPhone alarm woes…again!
http://www.news.com.au/technology/smartphones/clock-glitch-causes-alarm-chaos-for-iphone-users/story-fn6vihic-1226033283273
The Financial Times has taken a stand and said no to Apple subscriptions.
http://www.gizmodo.com.au/2011/04/first-major-newspaper-to-tell-apple-to-shove-its-subscription-plans/
The new Commodore 64, I want one!!!
http://www.gizmodo.com.au/2011/04/the-new-commodore-64-can-finally-be-yours/
More Graphene news, self cooling electronics, way cool.
http://io9.com/#!5788429/when-electronics-cool-themselves-off
Long distance shocks, introducing the Taser Grenade.
http://www.gizmodo.com.au/2011/04/watch-the-50000-volt-taser-grenade-shock-its-first-civilian-victim/
Turn your old film camera into a digital camera, awesome! Or is it a hoax?
http://www.gizmodo.com.au/2011/04/this-usb-cartridge-could-turn-your-analog-camera-digital/
Space the final frontier! The new Falcon Heavy rocket!
http://www.gizmodo.com.au/2011/04/the-new-falcon-heavy-rocket-can-take-us-back-to-the-moon/
I have a new respect for the insane man known as Ruslan Kogan.
http://www.news.com.au/technology/ruslan-kogan-profile/story-e6frfro0-1226033210961
Geek Stuff
Good to see we, as a people, know how to keep shit in perspective, please note sarcasm.
http://www.gizmodo.com.au/2011/04/professor-arrested-for-shutting-students-laptop-in-class/
Oh please let an iOS version of this come out, I want this app!
http://www.gizmodo.com.au/2011/04/android-wank-o-meter-is-probably-worse-than-you-think/
I'm not a huge April Fools fan but this is classic!
http://www.geekologie.com/2011/04/you_did_it_right_news_host_con.php
Somehow I don't think it is tournament legal, using digital cards.
http://www.geekologie.com/2011/03/playing_magic_the_gathering_wi.php
I don't think my wife would go for it, but this coffee table is geekalicious!
http://www.geekologie.com/2011/04/hoarder_junky_computer_parts_c.php
Spotify (a service we don't get yet) has a new concept toy and it's neat.
http://www.gizmodo.com.au/2011/04/spotify-box-radio-uses-rfid-tagged-discs-to-get-the-party-started/
This is a great ad installation, The Matchbox Cars campaign.
http://www.geekologie.com/2011/04/pedal_to_the_medal_clever_hot.php
Geek attire is always fun, here are 8-bit stockings, cool and sexy!
http://www.geekologie.com/2011/04/marios_dreamworld_8bit_pantyho.php
Weird Food!
Prepare for our Bovine overlords! Human DNA sliced into cows.
http://www.geekologie.com/2011/04/uhoh_cows_genetically_modified.php
Sealed for freshness, or so you thought. New mouse in a can.
http://www.geekologie.com/2011/03/monster_energy_now_with_more_d.php
Edible Pens, genius, just don't eat the tip.
http://www.geekologie.com/2011/03/move_over_necklaces_edible_can.php
Geek Picks of the Week
Every week Josh and/or I will give you our geek picks of the week, these could be anything from iPhone apps to a great sandwich recipe (more likely to be an app though).
David's Picks of the Week – "Trainz Simulator" (for iPad) from N3V Games Pty. Ltd.: $1.19 and "Death Rally" (Universal for iPhone & iPad) by Remedy Entertainment Ltd.: $3.99. Josh's Pick of the Week – His new, absolutely beautiful, ASUS U36J 13.3′ i5 laptop. It is gorgeous and retails for around $1400.
Also, listener Kalisynth also wanted us to point out a new iPhone app for you all to get, "Digital Spirit Board" is like a Ouija board on your iPhone and it is free. Oh yeah, and Kalisynth made it so show some support.
And finally….
Nerd pillow talk, not all funny but there are a couple of gems in there.
http://www.youtube.com/watch?v=Q5-e5IaB1EM
As always this episode carries an explicit tag due to possible bad language.
Listen or download it here or subscribe to it on iTunes
If you have any comments about the episode or really geeky links, please leave them in the comments field below or email us at feedback@geekactually.com or send us a voicemail at 02 8011 3167or Skype ID: geekactually (If you'd prefer to send an mp3 voice mail, mail it to the email address above and make sure the file is under 10mb.).
If you are an iTunes user, please leave a review.
Like to geek out at the movies? Listen to our movie show, Film Actually. You can listen to it on the site or subscribe to it on iTunes.
Join us on our Facebook Fan Page: facebook.com/GeekActually
Make sure you check out our new range of Geek Actually swag at cafepress.com.au/geekactually
The Reel Junkies podcast can be found at weekendronin.com
Find out about Josh's other site and to listen to his other show DLC Live go to RawDLC.com
Our cover art by Josh Spencer attackninja.blogspot.com and our opening theme is by Grant Noy.