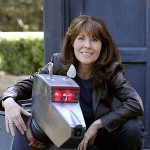 British actress best know for playing Sarah Jane on TV's "Doctor Who" has died after a long fight with cancer. The character first appeared on "Doctor Who" in the 70's as the companion to The Doctor played by Tom Baker. I have to admit that as a young boy I had a mad crush on Sarah Jane and she was one of the main reasons that I watched "Doctor Who".
In more recent years Elisabeth Sladen reprised her role of Sarah Jane in an episode of the new series of "Doctor Who" produced by Russell T. Davies and starring David Tennant as The Doctor. She proved to be so popular that they spun her off into a new children's TV show based on the character called "The Sarah Jane Adventures" which ran for several years.
Farewell Elisabeth Sladen, geeks all around the world are in mourning. You will be missed.