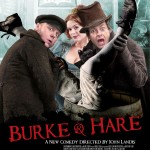 Months ago I posted up a trailer for director John Landis' New Film "Burke & Hare" starring Simon Pegg and Andy Serkis and then we waited. And waited. But there is hope as the film is finally coming to Australia.
I have been a long standing fan of John Landis since his 1970's days of "Kentucky Fried Movie" and "Animal House" to his career peak in the 80's with classics like "An American Werewolf in London", "The Blues Brothers" and "Trading Places". The films in the later part of his career have been a little less than stellar ("Oscar" & "Beverly Hills Cop 3") but still offer the occasional laugh. "Burke & Hare" has a fun trailer and looks like it might be a real return to form for the director. I will be there on opening night to show my support.
Our good friends over at Paramount Pictures Australia have made the Australian trailer and one sheet available to us and you can take a look by clicking the picture above (to see a high res version) or by watching the video below.

Burke and Hare – Australian Trailer by Paramount_Australia
What do you think? Interested? Let me know in the comments below.