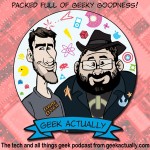 Hosted by: David McVay & Josh Philpott (guest: Brad Anderson)
This week on Geek Actually David and Josh enjoy their weekly geek out with topics including IPv6 day, new rail gun projectiles, boner bear, a review of the Nintendo 3DS, 2D cinema glasses, clean porn and the Pope's not happy. Plus we get a visit from Brad Anderson who tells us about his modding of the Nook Color eReader! So set phasers to stun and beam in for some fun.
Geek Actually is the fusion of the old Tech Actually and Geek Actually After Show podcasts into an all new show. All the Tech and geek goodness that you have come to expect from the old shows wrapped up and made easier to swallow as one simple, little, tasty podcast. DeltaKnight (AKA DAvid Murray) continues to supply us with some of the geekiest stories on the web and Josh and David love to play with the tech news.
Geek Actually is recorded live on Saturdays around 12pm (AEST UTC+10). Go to geekactually.com/live to watch it live.
Podcast: Play in new window | Download
Your show links follow:
Feedback
Tristen sent us this about broadband and poses the question, why can't we have this?
http://www.engadget.com/2011/04/20/virgin-media-to-test-1-5gbps-broadband-on-londons-silicon-round/
Geek Betty sent us this about Google videos imminent demise.
http://kottke.org/11/04/google-video-rip
Brad Anderson from ReboundRadio.com joins us via Skype to tell us about his science project
The Nook Color eReader to Android tablet conversion. Here is a link to the Cyanogen Mod 7 for Nook.
http://forum.xda-developers.com/showthread.php?t=960542
Geek Tech
In "The Impending Robot Apocalypse News"
The skin factory goes online, good lord!
http://www.gizmodo.com.au/2011/04/human-skin-grown-in-a-robot-controlled-german-skin-factory/
A little trivia, Terminator 2 Judgment Day's end didn't happen!
http://www.geekologie.com/2011/04/skynet-went-live-judgement-day.php
Weapon of doom, new railgun projectiles that look like something out of Flash Gordon.
http://www.geekologie.com/2011/04/new-aerodynamic-rail-gun-proje.php
Now a little PSA – Help support IPv6 Day.
http://isoc.org/wp/worldipv6day/
Beat Ups Of The Week!
The iPhone is spying on you! What a non-story.
http://www.news.com.au/technology/iphones-ipads-have-been-tracking-their-users-movements-and-storing-them-for-a-year/story-e6frfro0-1226042649844
The iPad is to blame for destroying the US economy.
http://www.gizmodo.com.au/2011/04/ignorant-congressman-claims-apple-ipad-killing-u-s-jobs/
Geek Show and Tell
Josh has bought himself a Nintendo 3DS. A great little handheld device with some really nifty features like it's location based social services, movies and its built in 3D cameras. On the downside, a real lack of games at the moment and some basic web features missing… like a browser.
Geek Stuff
2D Glasses for that ultimate cinema experience.
http://techland.time.com/2011/04/20/2d-glasses-are-the-antidote-to-bad-3d/
Copyright holders are such spoil sports! AT-At for America may have a problem.
http://www.gizmodo.com.au/2011/04/why-we-cant-make-your-iphone-look-like-a-padd-from-star-trek/
Apparently the Pope aint happy with technology again. Think he got a virus or something?
http://www.gizmodo.com.au/2011/04/man-will-pay-the-price-for-his-pride-if-he-believes-technology-can-give-him-the-powers-of-god/
Looking at porn in the library can be a health hazard.
http://www.gizmodo.com.au/2011/04/library-porn-lover-punched-out-by-vigilante/
Clean Porn, WTF is the point?!?!
http://www.geekologie.com/2011/04/another-day-another-star-trek.php
One last PSA, Beauty and the Geek Australia is looking for contestants.
http://www.gizmodo.com.au/2011/04/beauty-and-the-geek-looking-for-more-aussie-nerds/
Weird Food!
Playing games makes us eat more? Really?
http://www.gizmodo.com.au/2011/04/study-video-games-make-you-eat-more/
Boner beer :-) No more Foster's flop!
http://www.geekologie.com/2011/04/boner-beer-actually-brewed-wit.php
Geek Picks of the Week
Every week Josh, DeltaKnight and/or I will give you our geek picks of the week, these could be anything from iPhone apps to a great sandwich recipe (more likely to be an app though).
Check out this little gem of a music interface for iPad. VinylLove for the iPad.
http://www.gizmodo.com.au/2011/04/vinyllove-for-ipad-re-creates-that-warm-vinyl-record-sound-for-your-mp3s/
Josh has bought himself a Samsung Galaxy Tab and he tells us a little about his experiences so far. He will come back to us in two weeks to tell us more.
Send in your picks of the week for the next show.
As always this episode carries an explicit tag due to possible bad language.
Listen or download it here or subscribe to it on iTunes
If you have any comments about the episode or really geeky links, please leave them in the comments field below or email us at feedback@geekactually.com or send us a voicemail at 02 8011 3167 or Skype ID: geekactually (If you'd prefer to send an mp3 voice mail, mail it to the email address above and make sure the file is under 10mb.).
If you are an iTunes user, please leave a review.
Like to geek out at the movies? Listen to our movie show, Film Actually. You can listen to it on the site or subscribe to it on iTunes.
Join us on our Facebook Fan Page: facebook.com/GeekActually
Make sure you check out our new range of Geek Actually swag at cafepress.com.au/geekactually
The Reel Junkies podcast can be found at weekendronin.com
Find out about Josh's other site and to listen to his other show DLC Live go to RawDLC.com
Our cover art by Josh Spencer attackninja.blogspot.com and our opening theme is by Grant Noy.