Podcast: Play in new window | Download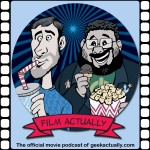 Hosts: David McVay, Josh Philpott & Celine Roberts (guest: Nicholas McVay)
This week Josh and David are joined by Celine Roberts for a review of Marvel Studios new comic book adaptation, "Thor". We also wade through our fan mail and take a look at some film news including "Burke & Hare" coming to Australia, the death of Elisabeth Sladen and "Mortal Kombat: Legacy" episode 2. We also have an interview with two of the starts of "Thor" and a brand new lists of five: Five Comic Books We Want To See On Screen. As a bonus, and in tune with the way Marvel works, stay after the closing music for a bonus bit with Nicholas 'The Little Geek' McVay. So hold on to your hammer, this is a long one. Film Actually is the official movie podcast of geekactually.com.
*Update 31/07/2012 – Film Actually was a split off from the main Geek Actually show and originally maintained numbering continuity with that show. That logic no longer works as the shows have become two unique entities, so we have gone back and re-numbered the Film Actually shows to reflect their true episode number. This show is now officially episode 37 but when you listen to the show you will hear it referred to as episode 129, this is why. Sorry about any confusion or inconvenience.
Film Actually is recorded live every Saturday. Go to geekactually.com/live for the schedule and to watch it
Your show notes:
Feedback
Feedback and what we've been watching.
GeekBetty's link to the Jim Schembri scandal.
http://blogs.crikey.com.au/cinetology/2011/04/19/fairfax-film-critic-jim-schembri-and-the-mystery-of-the-twitter-time-machine/
Feature Film Review
'Thor' directed by Kenneth Branagh and written by Zack Stentz, Ashley Miller and Don Payne based on the Marvel comic book created by Stan Lee, Jack Kirby and Larry Lieber. It stars Chris Hemsworth, Natalie Portman, Anthony Hopkins, Tom Hiddleston, Stellen Skarsgard, Kat Dennings, Jaimie Alexander, Idris Elba, Clark Gregg and Ray Stevenson.
The mighty Thor, a powerful but arrogant warrior whose reckless actions reignite an ancient war. For his actions, Thor is cast down to Earth by his father Odin and is forced to live among humans. A beautiful, young scientist, Jane Foster, has a profound effect on Thor, as she ultimately becomes his first love. It's while on Earth that Thor learns what it takes to be the heir to the throne of Asgard and a true hero. With the help of his Warriors Three and the warrior maiden Sif, Thor must stop his treacherous brother Loki from destroying his kingdom.
Our Verdict: An absolute crowd pleaser for the geek and the non-geek. Go see it and have some fun. Branagh does a superb job blending the real world with the fantasy world. Best 3D post conversion done yet.
Watch the trailer here: http://trailers.apple.com/trailers/paramount/thor/
Here is the video interview with Tom Hiddleston and Jaimie Alexander
http://geekactually.com/2011/04/19/an-interview-with-thor-stars-jaimie-alexander-tom-hiddleston/
Entertainment Buzz
Sad news, Elisabeth Sladen dies of cancer at 63. Farewell Sarah Jane.
http://geekactually.com/2011/04/20/a-sad-day-for-geeks-elisabeth-sladen-dies-at-63/
"Burke & Hare" finally comes to Australia
http://geekactually.com/2011/04/20/burke-hare-finally-arrive-in-australia/
Kevin Smith's "Red State" is in the black, take that nay sayers.
http://theredstatements.com/2011/04/18/qt-and-me/
3D Soft Core beats Avatar's first day record in Hong Kong!
http://www.slashfilm.com/3d-porn-film-beats-avatar-opening-day-hong-kong/
The new "Mortal Kombat: Legacy" web series continues, episode 2 is now up.
http://geekactually.com/2011/04/22/web-series-mortal-kombat-legacy-episode-2/
and finally a Red Band trailer for "30 Minutes or Less" from the director of "Zombieland".
http://www.ign.com/videos/2011/04/21/30-minutes-of-less-red-band-trailer?show=HD
Lists of Five
This week our Lists of Five: Five Comic Books We Want To See On Screen.
Just a reminder, because we never like to just make things easy on ourselves, our lists are not necessarily top five lists, they are more or a less a list of film recommendations within the theme of the list.
This episode carries an explicit tag due to infrequent coarse language.
Listen or download it here or subscribe to it on iTunes
Send feedback for this show to feedback@geekactually.com or leave us a voice mail message to play on the show at (Sydney number) 02 8011 3167 or Skype ID: geekactually (you can also send us an mp3 file if you'd prefer).
If you are an iTunes user, please leave a review. Your comments (good or bad) help us improve the show.
Join us on our Facebook Fan Page: facebook.com/GeekActually
Follow David on Twitter: @davidmcvay – Follow Josh on Twitter: @Dogm3at
Get your Geek Actually swag at cafepress.com.au/geekactually
Make sure you check out our other fine podcast Geek Actually for all your geek cuture needs.
David's "My Year With Movies" blog is on Tumbr
Listen to Reel Junkies podcast by going to weekendronin.com
Rachelle is over at The Funky Film Show, Thursdays on Radio Freemantle 107.9 FM or radiofreemantle.com
Find out more about Josh's other show, DLC Live, and Movember go to rawDLC.com
Celine Roberts can be found at godhaspinkhair.com
Nicholas McVay can be found at youtube.com/nickymcvay or www.nickymcvay.com
Our show logo is by Josh Spencer over at Spencer Cartoons at
http://attackninja.blogspot.com
We are finishing the show today with a track from Patrick Doyle's score to "Mary Shelley's Frankenstein" directed by Kenneth Branagh. The track is called "The Creation".