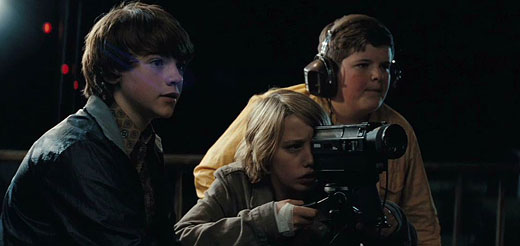 As I boarded the bus this morning at the ungodly time of 7am (ask around, most geeks don't even know that there is such a thing as 7am!) I was filled with a warm glow, yes it was early and yes I was cold and yes I was tired, but I had a growing excitement in me. Paramount Pictures Australia had invited Geek Actually (and others of course) to come to Event Cinemas this very morning to see a 20 minute sneak peak of J.J. Abrams' new film "Super 8". Why am I so excited? For me, "Super 8" is one of the most anticipated films of the year and I was going to get a look at what is arguably one of the most secretive projects of the US summer season.
To understand my excitement you have to understand that I am an older geek, I'll be 44 in June, and I grew up with late 70's and early 80's Spielberg films. Big event films either produced or directed by Spielberg were a mark of the US summer season, films like "Close Encounters of the Third Kind", "Raiders of the Lost Ark", "E.T. The Extra Terrestrial", "Gremlins", "Poltergeist", "Back to the Future", "Young Sherlock Holmes", "The Goonies"… well you get the idea. It is by far one of my favourite eras in cinema and I miss it. We still get big summer movies, this summer is looking to be huge at this point, but it just isn't quite the same because we seem to have lost a little of the wonder we once had when going to the movies. "Super 8" is produced by Steven Spielberg and directed by J.J. Abrams and it is clearly an homage to that era of films.
In my pre-preview chat with a Paramount representative it became clear that Paramount is also very excited about this film. In a US summer season packed full of sequels, remakes and superheroes, "Super 8" is something different and Paramount is throwing their considerable weight behind it.
Before the presentation we got a short intro movie of Abrams telling us a little about what we were about to see. It was made clear that the effects were not quite finished and some of the sound was temporary, I didn't care, I just wanted to see it. What we got presented with was two scenes that represented about twenty minutes of the film and it was a fantastic ride. And like any good amusement park ride it left me wanting more.
The first scene was the kids sneaking out in the middle of the night to shoot a scene for their movie. At this point I should probably take a tangent and explain for the younger of you out there that Super 8 was a type of 8mm movie film for home movie cameras. This was long before video was mainstream as the film is set in the late 70s. Okay, so while the kids are shooting the scene for their movie there is a train crash, the one you see in the trailer, and something escapes. Let's just stop here and say I am not going to do a blow by blow here as it really does need to be seen to be experienced but the train crash is spectacular. Even in this early form (a couple of the CG shots do look a little un-polished) this crash has impact with boxcars flipping and container cars exploding. There is one shot of a boxcar going clean through the station house that looks fantastic. In all this chaos we have the kids running for their lives as they dodge debris.
The acting from the kids is amazingly natural, as you would expect from a Spielberg production of that era. Special praise goes out to Elle Fanning (yeah that would be Dakota's sister) as Alice who delivers an amazing moment in the footage when they are rehearsing before a take. In the introduction we saw, Abrams said he purposely cast for talent rather than names and mostly cast kids who didn't come from Hollywood, good move Mr. Abrams.
The second scene previewed was set at a petrol station when the monster that escaped from the train (and no, we never got to see the monster) attacks the sheriff and the attendant. This was a tight scene with one really good jump in it, I won't spoil when it happens. This scene felt like it came straight out of Spielberg's playbook, one shot in particular is a close up of the station attendant, who is oblivious to the outside world because he is listening to his new hi-tech Walkman, while the Sheriff's car is destroyed outside behind him. Pure gold. Pure Spielberg.
The film looks great, cinematographer Larry Fong has embraced the lighting and mood of the period while keeping it contemporary, yes Abrams' love of the lens flare is still evident but not quite as extreme as his "Star Trek" re-boot.
Overall, this preview left me satisfied and excited for more. The footage was exciting, funny and dramatic. I can't wait for June.
If you want to watch the trailer or learn more about "Super 8", you can head over to the official site here.