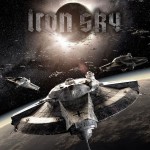 About a year ago at the SupaNova Expo we got the chance to meet the makers of the new independent sci-fi film "Iron Sky" (watch the interview here). The first teaser was fresh in everyone's mind and these guys were just great and so generous with their time. We at Geek Actually have been excited to see this film since we first heard the premise and now the new teaser (watch it below) really highlights the dark comedy of the piece.
For those that haven't heard about "Iron Sky", the film is a dark satirical comedy about the Nazi's leaving Earth in 19545 and taking up residence on the dark side of the moon. After years of plotting their revenge, they are now coming back and invading Earth. When we spoke to the director last year he said the comedy is very dark and satirical, in the vein of Kubrick's "Dr. Strangelove". Visually the film is looking very stylized with almost a "Sky Captain and the World of Tomorrow" look about it, which really works for the material.
The film is proving to be a very successful experiment as large portion of the small budget was crowd sourced. "It's finally becoming real. I can't wait for next April to get it out there for our fans," said the producer of Iron Sky, Tero Kaukomaa of Blind Spot Pictures. "It's also very nice to get the new teaser out with live action, and to continue the very successful crowd investing scheme launched at Cannes last year. That initiative is on the brink of reaching half a million euros, which makes it a major success."
"Iron Sky" is directed by Timo Vuorensola and written by Johanna Sinisalo & Michael Kalesniko (based on a concept by Jarmo Puskala. The film stars Udo Kier, Julia Dietze, Christopher Kirby, Götz Otto, Tilo Prückner, Peta Sergeant, Stephanie Paul and Kym Jackson. According to their press release, "Iron Sky" will be heading into cinemas on April 4th 2012.
You can find out more about "Iron Sky" by visiting their website http://www.ironsky.net/
What did you think of the teaser? Ready to see more of this film? Comment below.