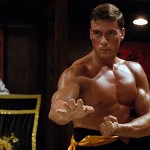 Edward R. Pressman, the producer behind rebooting "The Crow" has now announced a remake of the 1988 Jean Claude Van Damme action film "Bloodsport" with Phillip Noyce ("Salt") directing a Robert Mark Kamen ("Taken" and the "Transporter" films) script. My first and only question is why?
"Bloodsport" was a really ordinary film that had some good fight scenes but was most notable for launching Van Damme into the limelight. Arguably it was the film "Kickboxer" (1989) that made Van Damme a star, but "Bloodsport" was the fan favourite. With no Van Damme, the remake will just be another fight film and don't we have a million of them already?
They have re-worked the story a little from the original, according to Screen Daily the plot is: "…the story will follow an American who goes to Brazil to recover from the violence he has experienced in Afghanistan who gets involved in a martial arts contest."
One of the key elements of the original film was the brutal, realistic fight scenes. Studios don't like R ratings today and if the film is lumbered with a PG13 it loses one of its main ingredients; ultra violence. Unless they can find the next Van Damme, this will just be another mediocre action film that will disappear into obscurity. The original "Bloodsport" was not a huge success at the cinema, it built a cult following on home video so I'm not even sure, after 23 years, that the film even has name recognition with the current key demographic of the 18-25 year olds.
What are your thoughts on a remake of "Bloodsport"? Comment below.