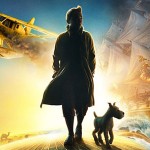 Now here is a film I am quite excited about. "The Adventures of Tintin" is a labour of love for director Steven Spielberg and producer Peter Jackson, both are self proclaimed life-long fans of the books by Hegré. I too am a fan of the books and read them all during my childhood and ever wondered if they would be given the big screen treatment. I was not a huge fan of the TV series that came out many years ago, the animation was rough and it felt lacking in heart. When I heard that Jackson and Spielberg had gone into production on a proposed trilogy of motion capture films, my heart skipped a beat.
Motion Capture (or 'Mo-Cap') has been given a bad rap because of the Robert Zemeckis films "The Polar Express" and "Beowulf". The complaint about lifeless eyes and uncanny movement has left people wondering if it can ever be done right. I hate to say it, but it has been done right already. Mo-Cap brought the Na'vi to life in James Cameron's "Avatar" and Golem to life in all of the films in the trilogy of "The Lord of the Rings". Robert Zemeckis even got it right finally with "A Christmas Carol" with Jim Carrey, it was just that nobody saw that film.
"The Adventures of Tintin" has Mo-Cap being done by Weta Digital (Jackson's company), the same people responsible for the Na'vi, Golem and King Kong in the Peter Jackson remake, so I think we are in pretty safe hands. So technicals aside, it is also worth noting that it has great writers (Steven Moffat ("Doctor Who"), Edgar Wright ("Scott Pilgrim Vs. The World") and Joe Cornish ("Attack of the Block")) and a fantastic cast including; Jamie Bell (as Tintin), Andy Serkis (as Captain Haddock), Simon Pegg and Nick Frost (as Thompson & Thompson) and Daniel Craig (as Red Rackham). This is shaping up to be a major event.
A few days ago, two posters for the new film appeared online and you can click on them below to see bigger versions.
Now today we get the first trailer and I am really excited. Watch the trailer below or download an HD version at Apple.
"The Adventures of Tintin" will hit cinemas on December 23rd 2011.
The official blurb for the film is:
Paramount Pictures and Columbia Pictures Present a 3D Motion Capture Film "The Adventures of Tintin" directed by Steven Spielberg from a screenplay by Steven Moffat and Edgar Wright & Joe Cornish. Starring Jamie Bell ("Billy Elliot," "Defiance") as Tintin, the intrepid young reporter whose relentless pursuit of a good story thrusts him into a world of high adventure, and Daniel Craig ("Quantum of Solace," "Defiance") as the nefarious Red Rackham.

Based on the series of books The Adventures of Tintin by Hergé, the film is produced by Steven Spielberg, Peter Jackson and Kathleen Kennedy.
What are your thoughts on all things Tintin? Excited for the new film? Comments below.