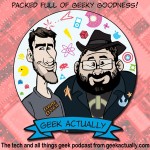 Hosted by: David McVay & Josh Philpott
This week on Geek Actually David and Josh take a look at the week in geek including the speculations about Apple's WWDC announcements, high flying jet packs, a first look at Windows 8, a cellar built airplane, The Onion's amazing new Sony parody and canned food that has to be seen to be believed. All this plus our picks of the week. So get out your can openers and enjoy this tasty morsel.
Geek Actually is the fusion of the old Tech Actually and Geek Actually After Show podcasts into an all new show. All the Tech and geek goodness that you have come to expect from the old shows wrapped up and made easier to swallow as one simple, little, tasty podcast. DeltaKnight (AKA DAvid Murray) continues to supply us with some of the geekiest stories on the web and Josh and David love to play with the tech news.
Geek Actually is recorded live on Saturdays around 12pm (AEST UTC+10). Go to geekactually.com/live to watch it live.
Podcast: Play in new window | Download
Your show links follow:
Before we start today we want to thank (in no particular order): Katrina Smith, Daniel Deutsch, Celia Kneen, Cam Kneen, George Levick, Josh Philpott, Celine Roberts, Mirren Lee, Sarah Kalpokas, James Coates, Cheryl Bowen, Peter Young, David Murray, Jordan Keith and Michelle Sefchik for donating and getting Nicholas his iPad for his birthday. This episode is dedicated to all of you.
Geek News
The Impending Robot Apocalypse
Robots are now handling our medication, I see no problem there.
http://www.gizmodo.com.au/2011/06/robots-will-someday-dispense-all-your-medicines/
Apple announces their WWDC announcement in a press release, what?!?
http://www.apple.com/pr/library/2011/05/31wwdc.html
So what could June 6th offer us Apple fan boys?
http://www.macworld.com.au/news/wwdc-keynote-rounding-up-the-rumours-31065/
The article about pricing.
http://www.zdnet.com/blog/btl/apple-icloud-nice-incremental-revenue-boost-but-halo-effect-more-notable/49893?tag=nl.e539
Now I know you want an iPad 2, but this might be going too far (a listener submission)
http://news.cnet.com/8301-17852_3-20068295-71/report-teen-sells-kidney-to-buy-ipad-2/
Personal Jetpacks are close. (a listener submission)
http://www.geekologie.com/2011/06/personal-jetpacks-one-step-closer-to-rea.php
Nintendo's "Dead or Alive: Dimensions" may be in trouble.
http://www.smh.com.au/digital-life/games/nintendo-child-porn-game-pg-in-australia-20110531-1fdrc.html?from=smh_sb
One Step Closer to the paperless society. You go Ricoh, great idea.
http://www.gizmodo.com.au/2011/06/ricoh-wants-to-kill-paper-forms-forever/
Boy, I hope Microsoft can deliver what it promises, Windows 8 is looking cool.
http://www.gizmodo.com.au/2011/06/this-is-windows-8/
Let's kick Sony while they're down, The Onion roasts them.
http://www.theonion.com/video/sony-releases-new-stupid-piece-of-shit-that-doesnt,14309/
YouTube has an interesting new feature, hopefully it is the shape of things to come.
http://www.gizmodo.com.au/2011/06/youtubes-creative-commons-licence-lets-you-remix-videos/
Iran is planning on closing down the open internet, sounds like Australia.
http://www.gizmodo.com.au/2011/05/iran-planning-to-close-down-their-open-internet/
Here is a completely useless invention. The MP3 flashlight.
http://www.gizmodo.com.au/2011/06/torch-mp3-player-hybrid-for-music-loving-idiots-in-the-dark/
I'm pretty sure we don't need to do this.
http://www.gizmodo.com.au/2011/05/in-the-future-you-could-be-bumping-smartphones-before-bumping-uglies/
This is a pretty cool sculpture (a listener submission)
http://www.geekologie.com/2011/06/keyboard-with-key-height-according-to-us.php
Fantastic Geek Hobbies
Now that's how you build Lego.
http://www.gizmodo.com.au/2011/05/lego-fan-creates-250000-brick-'garrison-of-moriah'/
Wow, some people build models, Dan Reeves built a plane…in his cellar.
http://dvice.com/archives/2011/05/man-builds-plan.php
Wow! A record breaking, life size Hotwheels track!
http://www.gizmodo.com.au/2011/06/life-size-hot-wheels-track-breaks-world-record/
The circular saw blade sling shot
http://www.gizmodo.com.au/2011/05/mad-man-builds-mad-slingshot-that-fires-mad-circular-sawblades/
Weird Food!
Bottled Water…in a can.
http://www.hahastop.com/pictures/Bottled_Water_In_A_Can.htm
More amazing canned food from around the world.
http://acidcow.com/pics/2984-weird_and_exotic_canned_food_43_pics.html
Wisconsin Style Fish Assholes in a can, is this a joke?!?!?
http://www.oddee.com/contrib_11333.aspx
Geek Picks of the Week
Every week Josh, DeltaKnight and/or I will give you our geek picks of the week, these could be anything from iPhone apps to a great sandwich recipe (more likely to be an app though).
The personal iPhone fan.
http://www.gizmodo.com.au/2011/05/the-iphone-is-finally-cool/
Video Time Machine is fun
http://www.gizmodo.com.au/2011/06/video-time-machine-for-iphone-takes-you-back-with-nostalgic-videos/
This looks like a really interesting app but to pricey.
http://www.gizmodo.com.au/2011/06/idea-flight-for-ipad/
and to finish off, something geeky from history…
Black Beards Anchor!
http://www.gizmodo.com.au/2011/05/massive-anchor-from-blackbeards-flagship-raised-from-wreckage/
As always this episode carries an explicit tag due to possible bad language.
Listen or download it here or subscribe to it on iTunes
If you have any comments about the episode or really geeky links, please leave them in the comments field below or email us at feedback@geekactually.com or send us a voicemail at 02 8011 3167or Skype ID: geekactually (If you'd prefer to send an mp3 voice mail, mail it to the email address above and make sure the file is under 10mb.).
If you are an iTunes user, please leave us a review or a rating.
Like to geek out at the movies? Listen to our movie show, Film Actually. You can listen to it on the site or subscribe to it on iTunes.
Join us on our Facebook Fan Page: facebook.com/GeekActually
Make sure you check out our new range of Geek Actually swag at cafepress.com.au/geekactually
The Reel Junkies podcast can be found at weekendronin.com
Brad and Charlie (formerly of "Movie Fan House") are back, their new site is ReboundRadio.com
Find out about Josh's other site and to listen to his other show DLC Live go to RawDLC.com
Our cover art by Josh Spencer attackninja.blogspot.com and our opening theme is by Grant Noy.