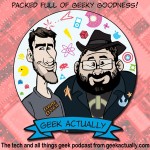 Hosted by: David McVay & Josh Philpott
This week on Geek Actually David and Josh take a look at the two major events of the week, Apple's WWDC keynote and the latest from E3. David looks at the latest from Apple and Josh delivers his 3rd annual E3 round up. They also give their opinions on the new game "Duke Nukem Forever", was it worth the wait? All this plus some weird geek news and cows that produce human milk. Its a long one so get comfortable and enjoy.
Geek Actually is the fusion of the old Tech Actually and Geek Actually After Show podcasts into an all new show. All the Tech and geek goodness that you have come to expect from the old shows wrapped up and made easier to swallow as one simple, little, tasty podcast. DeltaKnight (AKA DAvid Murray) continues to supply us with some of the geekiest stories on the web and Josh and David love to play with the tech news.
Geek Actually is recorded live on Saturdays around 12pm (AEST UTC+10). Go to geekactually.com/live to watch it live.
Podcast: Play in new window | Download
Your show links follow:
Geek News
The Impending Robot Apocalypse
Steve Wozniak believes we have already lost. Isn't that great news.
http://www.geekologie.com/2011/06/steve-wozniak-humans-will-be-robot-pets.php
This week we had two major events, Apple's WWDC and E3
Apple's New Stuff
OSX Lion
http://gigaom.com/apple/10-new-features-in-os-x-lion/
$29.99 from the App Store, App Store rules apply
iOS 5
Here are the 10 things announced
http://www.gizmodo.com.au/2011/06/ios-5-the-top-10-new-features/
and a few that didn't get so much airplay
http://www.gizmodo.com.au/2011/06/the-best-of-the-200-unsung-features-in-ios-5/
iMessage is a killer app
http://www.gizmodo.com.au/2011/06/apple-thumbs-nose-at-carriers-by-launching-imessage-without-warning/
iCoud
What is iCloud?
http://www.gizmodo.com.au/2011/06/this-is-icloud/
iTunes Match
http://macdailynews.com/2011/06/07/apples-itunes-match-explained/
E3
What's new from the world of E3? Josh watched the events live and survived to tell the tale.
Sony Apologises
http://www.youtube.com/watch?v=qVeUfNxS0hw
and the new Wii is coming.
http://www.geekologie.com/2011/06/nintendo-officially-announces-new-consol.php
World of Geek
I don't know about you, but I have never slept in the small of my wife's back.
http://www.geekologie.com/2011/06/booty-pillows-pillows-shaped-like-bootie.php
Is this what really goes on at an IT support desk?
http://www.geeksaresexy.net/2011/06/08/it-service-desk-wheel-of-responses-pic/
Best laid plans of…failed ninja!
http://www.geekologie.com/2011/06/ninja-drives-car-through-apple-store-run.php
The Mothership really has landed! Apple's new headquarters.
http://www.geekologie.com/2011/06/steve-jobs-unveils-new-apple-headquarter.php
Now here is the most stupid law ever imagined
http://www.gizmodo.com.au/2011/06/tennessee-just-made-offensive-online-pictures-illegal/
The Beginning of the Holodeck? I think so and I want one.
http://www.geeksaresexy.net/2011/06/03/the-immersive-cocoon-your-very-own-holodeck/
Now here is a perverts best friend.
http://www.gizmodo.com.au/2011/06/second-gen-looxcie-wearable-headset-adds-icloud-support/
The Solar Powered Bikini!
http://www.geeksaresexy.net/2011/06/03/the-solar-powered-bikini-because-why-not/
Weird Food!
WTF!?! Cows can make what now?
http://www.gizmodo.com.au/2011/06/cows-in-china-are-now-producing-human-breast-milk/
Geek Picks of the Week
Every week Josh, DeltaKnight and/or I will give you our geek picks of the week, these could be anything from iPhone apps to a great sandwich recipe (more likely to be an app though).
This week Josh and David give their first thoughts on "Duke Nukem Forever". Was it worth the wait?
As always this episode carries an explicit tag due to possible bad language.
Listen or download it here or subscribe to it on iTunes
If you have any comments about the episode or really geeky links, please leave them in the comments field below or email us at feedback@geekactually.com or send us a voicemail at 02 8011 3167 or Skype ID: geekactually (If you'd prefer to send an mp3 voice mail, mail it to the email address above and make sure the file is under 10mb.).
If you are an iTunes user, please leave us a review or a rating.
Like to geek out at the movies? Listen to our movie show, Film Actually. You can listen to it on the site or subscribe to it on iTunes.
Join us on our Facebook Fan Page: facebook.com/GeekActually
Make sure you check out our new range of Geek Actually swag at cafepress.com.au/geekactually
The Reel Junkies podcast can be found at weekendronin.com
Brad and Charlie (formerly of "Movie Fan House") are back, their new site is ReboundRadio.com
Find out about Josh's other site and to listen to his other show DLC Live go to RawDLC.com
Our cover art by Josh Spencer attackninja.blogspot.com and our opening theme is by Grant Noy.