Podcast: Play in new window | Download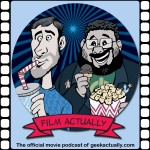 Hosts: David McVay, Josh Philpott and Katrina Smith (with Nicholas McVay)
This week David and Josh are joined by Katrina Smith for a review of "Super 8". They also take in some film news and deliver a brand new Lists of Five: Five Great Films From The Super 8 Era. If that wasn't enough, Nicholas "The Little Geek" McVay puts in an end of show appearance for the kids take on "Super 8". Katrina is in the house, so it is a long one, enjoy. Film Actually is the official movie podcast of geekactually.com.
If you are an iTunes user, please leave a review. Your comments (good or bad) help us improve the show. This show carries an explicit tag due to infrequent coarse language.
Make sure you check out our other fine podcast Geek Actually for all your tech and geek culture needs.
*Update 31/07/2012 – Film Actually was a split off from the main Geek Actually show and originally maintained numbering continuity with that show. That logic no longer works as the shows have become two unique entities, so we have gone back and re-numbered the Film Actually shows to reflect their true episode number. This show is now officially episode 43 but when you listen to the show you will hear it referred to as episode 135, this is why. Sorry about any confusion or inconvenience.
Film Actually is recorded live every Saturday. Go to geekactually.com/live for the schedule and to watch it
Your show notes:
Feature Film Review
'Super 8' written & directed by J.J. Abrams. It stars Joel Courtney, Elle Fanning, Ryan Lee, Zach Mills, Riley Griffiths, Gabriel Basso, Kyle Chandler, Ron Eldard and Noah Emmerich.
In the summer of 1979, a group of friends in a small Ohio town witness a catastrophic train crash while making a super 8 movie and soon suspect that it was not an accident. Shortly after, unusual disappearances and inexplicable events begin to take place in town, and the local Deputy tries to uncover the truth – something more terrifying than any of them could have imagined. – Source: The Official Site
Our Verdict: Josh and David loved and wholly recommend this film. It might just be their film of the year. Katrina liked the film but felt it had a few issues.
Note: There is a five minute spoiler section at the end of the review.
Watch the trailer here: http://trailers.apple.com/trailers/paramount/super8/
Entertainment Buzz
The "Fright Night" remake gets a second trailer, this time with a little Tennant.
http://www.youtube.com/watch?v=tIYXDvp4IYE&feature=player_embedded
This week an amazingly candid interview with Spielberg was published on AICN. This is fantastically insightful.
http://www.aintitcool.com/node/49921
Plot details on the "Asteroids" adaptation and maybe a director too.
http://nymag.com/daily/entertainment/2011/06/roland_emmerich_has_been_offer.html
Werner Herzog once again proves he is as mad as a snake.
http://www.colbertnation.com/the-colbert-report-videos/388586/june-06-2011/werner-herzog
Dwayne Johnson could be joining the G.I. Joe sequel.
http://www.showblitz.com/2011/06/duane-the-rock-johnson-to-star-in-gi-joe.html
Sacha Baron Cohen is "The Dictator"
http://www.slashfilm.com/sacha-baron-cohen-the-dictator/
and finally this crap is almost over, "Breaking Dawn Part 1" gets a teaser.
http://www.youtube.com/watch?v=sIpeBi6SG4A&feature=player_embedded
Lists of Five
This week our Lists of Five: Five Great Films From The "Super 8" Era. To celebrate the release of Super 8, we deliver these lists of great films from the era (1977-1986) that inspired "Super 8".
Just a reminder, because we never like to just make things easy on ourselves, our lists are not necessarily top five lists, they are more or a less a list of film recommendations within the theme of the list.
Listen or download it here or subscribe to it on iTunes
Send feedback for this show to feedback@filmactually.com or leave us a voice mail message to play on the show at (Sydney number) 02 8011 3167 or Skype ID: geekactually (you can also send us an mp3 file if you'd prefer).
Join us on our Facebook Fan Page: facebook.com/GeekActually – Follow David on Twitter: @davidmcvay – Follow Josh on Twitter: @Dogm3at – Get your Geek Actually swag at cafepress.com.au/geekactually – David's "My Year With Movies" blog is on Tumbr – Check out Nicholas McVay's Lego animations at YouTube.com/NickyMcVay – Our show logo is by Josh Spencer over at Spencer Cartoons at  http://attackninja.blogspot.com
Friends of the Show
Listen to Reel Junkies podcast by going to weekendronin.com
Charlie and Brad (formerly of the Movie Fan House) are back, check them out at ReboundRadio.com
Rachelle is over at The Funky Film Show, Thursdays on Radio Freemantle 107.9 FM or radiofreemantle.com
Find out more about Josh's other show, DLC Live, and Movember go to rawDLC.com
The "Super 8" score isn't out until the 28th, so we are finishing the show today with the end titles track from John Williams' masterpiece of film music "E.T. The Extra-Terrestrial". I thought it was in tune with the week's theme.