A promotional poster for next year's "The Avengers", from Marvel Productions, has surfaced at the Licensing International Expo. This is by no means the final poster for the film but a promotional tool to get people excited about the project. Even though it is not the final poster it is cool to look at to see the changes to Captain America and Iron Man's costumes. We also get a clear look at Hawkeye and let's face it, any chance to look at Black Widow is cool :-)
"The Avengers" opens in 2012 and is written and directed by Joss Whedon. It stars Robert Downey Jr., Chris Hemsworth, Mark Ruffalo, Jeremy Renner, Chris Evans, Scarlett Johansson, Samuel L. Jackson, Cobie Smulders, Stellan Skarsgård, Tom Hiddleston and Clark Gregg.
See the image below: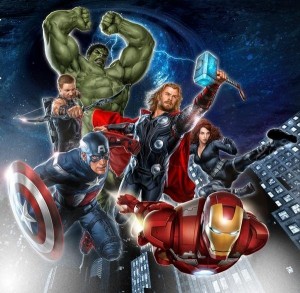 Thanks to /Film for making this image available.