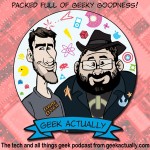 Hosted by: David McVay & Josh Philpott
This week on Geek Actually, David and Josh take a look at the week in geek including rival hacker groups, eyeball laser beams, Steve Wozniak's opinions on the NBN, Apple tells Samsung to shove it and turd burgers. All this plus Josh's opinions on living with the Galaxy Tab and David's opinion's on Duke Nukem Forever one week later. Pop in those earbuds, your hosts await you.
Geek Actually is the fusion of the old Tech Actually and Geek Actually After Show podcasts into an all new show. All the Tech and geek goodness that you have come to expect from the old shows wrapped up and made easier to swallow as one simple, little, tasty podcast. DeltaKnight (AKA DAvid Murray) continues to supply us with some of the geekiest stories on the web and Josh and David love to play with the tech news.
Geek Actually is recorded live on Saturdays around 12pm (AEST UTC+10). Go to geekactually.com/live to watch it live.
Podcast: Play in new window | Download
Your show links follow:
Feedback
Listener GeekBetty alerted us to this interesting thing from 2K games.
http://arstechnica.com/gaming/news/2011/06/duke-nukems-pr-threatens-to-punish-sites-that-run-negative-reviews.ars
and informs us about this killer Werner Herzog reading.
http://kottke.org/11/06/werner-herzog-reads-go-the-fuck-to-sleep
Listener Jordan Sent us this little tidbit about EA games. Looks like they're trying to do a Sony.
http://www.thegamingvault.com/2011/06/ea-pulling-games-from-steam-confirms-origin-exclusive-titles/
Listener Zedd weighs in on a few things we have covered and here is the link he mentioned.
http://www.sciencedaily.com/releases/2011/06/110602153046.htm
Geek News
The Impending Robot Apocalypse
Killer robot hands? I'm just saying what everyone is thinking.
http://www.geekologie.com/2011/06/robot-hands-theyre-better-than-yours.php
but we might be able to fight back soon – Frikken Eye Laser Beams!
http://dvice.com/archives/2011/06/scientists-comb.php
Apple tells Samsung to shove it, just in other words.
http://www.macrumors.com/2011/06/14/apple-calls-to-samsungs-request-attempt-to-harass/
Our government, one step forward, three steps back.
http://www.smh.com.au/technology/technology-news/disconnecting-pirates-from-the-net-ok-government-20110609-1fua4.html
Steve Wozniak likes the NBN.
http://www.zdnet.com.au/us-wont-copy-aussie-nbn-steve-wozniak-339316189.htm
Want to know a little more about Bill Gates? Read this interview.
http://www.dailymail.co.uk/home/moslive/article-2001697/Microsofts-Bill-Gates-A-rare-remarkable-interview-worlds-second-richest-man.html
Hackerpalooza!
Hacker Group Anonymous brings down the Spanish police.
http://www.bbc.co.uk/news/technology-13749181
and then announce their next target, creepy.
http://www.gizmodo.com.au/2011/06/anonymous-goes-after-us-federal-reserve/
Hacker group Lulzsec took down the CIA, nothing like making new friends :-)
http://www.gizmodo.com.au/2011/06/whoa-lulz-security-takes-on-the-cia/
and is this hacker civil war? Lulzsec vs 4Chan.
http://www.gizmodo.com.au/2011/06/lulzsec-hackers-go-to-war-with-4chan/
Terrorist proof toilets in Moscow.
http://www.wired.com/dangerroom/2011/06/oh-crap-moscow-mulls-terrorist-proof-toilets/
Holy cow, hover bikes! But can you control them?
http://www.geekologie.com/2011/06/omg-speederbike-style-hoverbike-can-alle.php
They'll never shut the internet off again, but could this be considered an act of war?
http://www.gizmodo.com.au/2011/06/this-suitcase-is-packed-full-of-wireless-regime-change/
Weird Food!
God I hope this is a hoax – Turd Burgers!
http://www.gizmodo.com.au/2011/06/would-you-eat-a-burger-made-from-poop/
Made a mess? You could use this amazing thing.
http://kottke.org/11/06/the-quicker-ketchup-picker-upper
Geek Picks of the Week
Every week Josh, DeltaKnight and/or I will give you our geek picks of the week, these could be anything from iPhone apps to a great sandwich recipe (more likely to be an app though).
This week Josh finally tells us about life with the Galaxy Tab. David talks "Duke Nukem Forever" a week later.
and to finish us off, a moment in history
This is how we used to think broadband would look :-)
http://www.gizmodo.com.au/2011/06/in-an-nbn-world-sometimes-we-need-to-remember-how-we-saw-broadband-in-the-90s/
As always this episode carries an explicit tag due to possible bad language.
Listen or download it here or subscribe to it on iTunes
If you have any comments about the episode or really geeky links, please leave them in the comments field below or email us at feedback@geekactually.com or send us a voicemail at 02 8011 3167 or Skype ID: geekactually (If you'd prefer to send an mp3 voice mail, mail it to the email address above and make sure the file is under 10mb.).
If you are an iTunes user, please leave us a review or a rating.
Like to geek out at the movies? Listen to our movie show, Film Actually. You can listen to it on the site or subscribe to it on iTunes.
Join us on our Facebook Fan Page: facebook.com/GeekActually
Make sure you check out our new range of Geek Actually swag at cafepress.com.au/geekactually
The Reel Junkies podcast can be found at weekendronin.com
Brad and Charlie (formerly of "Movie Fan House") are back, their new site is ReboundRadio.com
Find out about Josh's other site and to listen to his other show DLC Live go to RawDLC.com
Our cover art by Josh Spencer attackninja.blogspot.com and our opening theme is by Grant Noy.