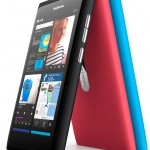 This week I was invited to a special event to announce Nokia's new handset the "N9". The invite for the event claimed, "Nokia to "disrupt" market with new device" so the questions are, 1) will they disrupt the market? and 2) what is the new handset like?
Let's tackle the second question first, what is the new Nokia N9 like? With a nice edge to edge 3.9″ slightly curved AMOLED screen with no front buttons (all controls are touch except the lock button and volume controls on the side), an 8MP camera with Carl Zeiss optics and a body carved from a solid piece of coloured polymer, the N9 is a pretty phone.
But pretty isn't enough, how does it perform? The display is bright and sharp and the new MeeGo operating system is smooth and responsive. In fact Nokia says that the hardware and operating system were designed in tandem so the final process should prove to be a very satisfactory experience for those who use the phone. I only got a short hands on but it was a much more pleasant experience than the Symbian system running on the N8.
MeeGo is Nokia's next generation operating system and although it has a couple of interesting ideas, it feels a little dated already. The layout of the icons, hell even the design of the icons, all feels a little iOSish. The home screen is one continuous flow of icons that you can scroll through and even though you can rearrange them, there is no ability to create folders to keep things organised. Now considering that you can only save browser bookmarks as home screen icons, I think this is an organisational nightmare waiting to happen. The multitasking is the star here, a side swipe and you are on the multitask panel that shows everything that is running. Some programs will pause when put into the background, like the movie player, and some continue to work in the background, like the music player or web browser, pages will continue to load in the background.
The camera is great and like the N8 (although the resolution has dropped from 12 to 8MP) Nokia shows that their focus is heavily aimed at imaging. The camera also shoots true 16:9 720p high definition video.
I really can't give a full review of the phone as I only got a short play and I would like to have a longer play with the handset to really get a feel for it. But first impressions are positive but not overwhelming.
Now onto the first question, will this phone disrupt the market? I'm afraid I don't think it will have much of an impact at all unless the phone is really cheap (pricing isn't announced yet) because it doesn't really offer anything new to an over crowded smart phone market. If this phone was released a couple of years ago it would have been the phone to own but in the age of iPhone and Android, it just feels a little been there done that. I think Nokia really needs to focus on their deal with Microsoft and get those Windows Phone 7 handsets to market, that will have a bigger impact.
Final thoughts, nice handset but it is too little too late and will probably sit on shelves next to the N8. I used to be a huge Nokia fanboy and I would love them to have a success, but in my humble opinion this isn't the phone to do it.