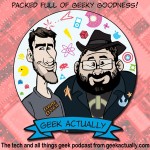 Hosted by: David McVay & Josh Philpott
This week on Geek Actually, David and Josh take a look at the week in geek including Nokia's new N9 phone, a learning robot, the latest from Apple vs. Samsung's court case, Facebook's Project Spartan, brain implants, geek weeding cakes and the latest in Hackerpalooza 2011 news. Come on in, the water is fine.
Geek Actually is the fusion of the old Tech Actually and Geek Actually After Show podcasts. All the tech and geek goodness that you have come to expect from the old shows wrapped up and made easier to swallow as one simple, little, tasty podcast. DeltaKnight (AKA DAvid Murray) continues to supply us with some of the geekiest stories on the web and Josh and David love to play with the tech news.
Geek Actually is recorded live on Saturdays around 12pm (AEST UTC+10). Go to geekactually.com/live to watch it live.
Podcast: Play in new window | Download
Your show links follow:
Feedback
Kalisynth has cleared up the Steam/EA issue.
http://www.gamefront.com/ea-pulls-crysis-2-from-steam-say-its-origin-only/
Tristan alerted us to this new camera tech.
http://news.cnet.com/8301-30685_3-20073206-264/start-up-lytro-tries-refocusing-camera-industry/
Rob Lee and Claro Tungul wanted us to know about the new super computer.
http://www.geekologie.com/2011/06/fine-you-can-have-it-japan-takes-back-ho.php
Rob Lee also wanted us to be aware of Best Buy trying to steal the word geek, bad Best Buy! http://online.wsj.com/article/SB10001424052702304453304576391602625560250.html?mod=e2tw
And lastly, Bianca tells us her thoughts on GM food plus this leads into…
The Impending Robot Apocalypse
…this absolutely awesome and terrifying piece of tech. ASIMO learns!
http://www.youtube.com/watch?v=P9ByGQGiVMg
We have our first real weapon to beat the robots, Microwave Missiles!
http://www.gizmodo.com.au/2011/06/microwave-warhead-is-non-lethal-unless-youre-a-robot/
Geek News
Nokia announces the N9 and promises to 'disrupt' the market. Will they?
http://geekactually.com/2011/06/23/can-nokia-disrupt-the-phone-market-with-the-n9/
The latest from Apple vs Samsung
http://fosspatents.blogspot.com/2011/06/samsung-has-to-wait-for-ipad-3-and.html
Indie music labels are starting to back out of iTunes Match.
http://www.gizmodo.com.au/2011/06/indie-labels-are-already-opting-out-of-itunes-match/
The New York Times iPad policy sucks, you're breaking the web man.
http://www.gizmodo.com.au/2011/06/the-new-york-post-now-blocks-mobile-safari-vistors-from-accessing-their-web-site/
Hackerpalooza 2011 Continues!
The Lulsec Manifesto. http://pastebin.com/HZtH523f
http://www.digitaltrends.com/computing/lulzsec-to-critics-were-doing-you-all-a-favor/
Lulsec and Anonymous Team Up and Declare War on World Governments.
http://www.gizmodo.com.au/2011/06/lulzsec-and-anonymous-declare-open-war-against-all-governments-and-fat-cats/
Lulsec gives out 62000 username and password combos and says have fun.
http://www.gizmodo.com.au/2011/06/lulzsec-leaks-62000-emailpassword-combo-internet-goodie-bag/
and hacking happens in Australia too.
http://www.theregister.co.uk/2011/06/21/hacks_wipe_aus_web_and_data/
Is it time to abandon passwords?
http://www.gizmodo.com.au/2011/06/its-time-to-abandon-passwords/
While everyone else goes thin and dainty, Panasonic to release a tough tablet.
http://www.gizmodo.com.au/2011/06/panasonic-toughbook-android-tablet-is-a-rugged-beast/
Facebook said iPads were not mobile devices, they seem to have had a change of mind.
http://www.gizmodo.com.au/2011/06/facebook-finally-gets-their-ipad-app-ready/
Facebook's Project Spartan! Beating Apple at their own game – App Domination.
http://techcrunch.com/2011/06/15/facebook-project-spartan/
Excessive gaming may be altering your brain, and not in a good way.
http://www.gizmodo.com.au/2011/06/excessive-gaming-might-actually-rewire-your-brain/
The Australian Federal Government closes the Filtering Department Office.
http://www.itnews.com.au/News/260745,feds-quietly-close-mandatory-internet-filtering-branch.aspx
But Telstra and Optus volunteer to filter the web starting next month.
http://www.news.com.au/technology/internet-filter/telstra-optus-to-begin-censoring-web-next-month/story-fn5j66db-1226079954138
Biology fun
Johnny Frikken Mnemonic! Brain implants a reality.
http://www.gizmodo.com.au/2011/06/scientists-create-first-memory-expansion-for-brain/
NanoGenerators that could be powered by your pulse.
http://www.gizmodo.com.au/2011/06/nanogenerators-could-power-a-bluetooth-headset-with-your-pulse/
Weird Food!
Geek Wedding Cakes, So Cool! – sent in by GeekBetty
http://www.freedating.co.uk/articles/worlds-greatest-wedding-cakes.html
Geek Picks of the Week
Every week Josh, DeltaKnight and/or I will give you our geek picks of the week, these could be anything from iPhone apps to a great sandwich recipe (more likely to be an app though).
Lego Announces their longest set ever, a model of Darth Vader's Executor.
http://news.cnet.com/8301-13772_3-20072100-52/darth-vaders-personal-lego-spaceship-flies-sept-1/
Wacom has entered the App market with a new notebook app – free until June 30th
http://www.macworld.com/article/160586/2011/06/bamboo_paper_app.html
I'm sure someone has a use for this.
http://www.gizmodo.com.au/2011/06/koder-for-ipad-nerds-rejoice-you-can-code-on-your-ipad/
and to finish us off, a moment in history…kinda
The Sean Connery parody – sorry Delta this is fake
http://scoopertino.com/exposed-the-imac-disaster-that-almost-was/
As always this episode carries an explicit tag due to possible bad language.
Listen or download it here or subscribe to it on iTunes
If you have any comments about the episode or really geeky links, please leave them in the comments field below or email us at feedback@geekactually.com or send us a voicemail at 02 8011 3167 or Skype ID: geekactually (If you'd prefer to send an mp3 voice mail, mail it to the email address above and make sure the file is under 10mb.).
If you are an iTunes user, please leave us a review or a rating.
Like to geek out at the movies? Listen to our movie show, Film Actually. You can listen to it on the site or subscribe to it on iTunes.
Join us on our Facebook Fan Page: facebook.com/GeekActually
Make sure you check out our new range of Geek Actually swag at cafepress.com.au/geekactually
The Reel Junkies podcast can be found at weekendronin.com
Brad and Charlie (formerly of "Movie Fan House") are back, their new site is ReboundRadio.com
Find out about Josh's other site and to listen to his other show DLC Live go to RawDLC.com
Our cover art by Josh Spencer attackninja.blogspot.com and our opening theme is by Grant Noy.