Podcast: Play in new window | Download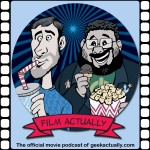 Hosts: David McVay & Josh Philpott and guest Richard Gray
This week David and Josh are joined by Richard Gray (theReelbits.com) for a review of "Transformers Dark of the Moon". They also take in some entertainment news, including the new trailers for "Mission: Impossible Ghost Protocol" and Pixar's "Brave". Plus they deliver a brand new Lists of Five: Five Investigative Films. We are also joined, briefly, by Jorge Duran from Spotlight Report for his thoughts on the new "Transformers" film.  Film Actually is the official movie podcast of geekactually.com.
If you are an iTunes user, please leave a review. Your comments (good or bad) help us improve the show. This show carries an explicit tag due to infrequent coarse language.
Make sure you check out our other fine podcast Geek Actually for all your tech and geek culture needs.
*Update 31/07/2012 – Film Actually was a split off from the main Geek Actually show and originally maintained numbering continuity with that show. That logic no longer works as the shows have become two unique entities, so we have gone back and re-numbered the Film Actually shows to reflect their true episode number. This show is now officially episode 46 but when you listen to the show you will hear it referred to as episode 138, this is why. Sorry about any confusion or inconvenience.
Film Actually is recorded live every Saturday. Go to geekactually.com/live for the schedule and to watch it
Your show notes:
Feature Film Review
'Transformers: Dark of the Moon' directed by Michael Bay and written by Ehren Kruger. It stars Shia LaBeouf, Rosie Huntington-Whiteley, Josh Duhamel, John Turturro, Tyrese Gibson, Patrick Dempsey, Frances McDormand, John Malkovich, Alan Tudyk, Kevin Dunn, Julie White and Ken Jeong plus the voice talents of Peter Cullen, Hugo Weaving and Leonard Nimoy.
The big robots are back. Sam is trying to find his place in life while a mysterious Autobot ship that has been lost for many many years is found on the far side of the moon. The contents of the ship sparks of the final conflict between the Autobots and evil Decpticons. A conflict that threatens the entire world and all of mankind.
Our Verdict: A film that is just as dumb and pointless as part 2 in the series. Visually fantastic with amazing special effects but ultimately empty and soulless. Avoid this film.
Watch the trailer here: http://trailers.apple.com/trailers/paramount/transformersdarkofthemoon/
Entertainment Buzz
Peter Falk dies at 83. Farewell Detective Columbo.
http://www.smh.com.au/world/just-one-more-thing-falk-dies-at-83-20110625-1gknt.html
Michael Bay might be going small for his next film.
http://www.slashfilm.com/michael-bay-follow-dark-of-the-moon-20-million-black-comedy-pain-gain/
Red Band trailer for "Horrible Bosses" – What a cast!
http://www.youtube.com/watch?v=YpjupmLhzwc
Darren Aronofsky's "Noah" almost a go project, what do we think of this project?
http://www.deadline.com/2011/06/paramount-near-deal-to-provide-safe-harbor-to-darren-aronofskys-noah/
Writer Damon Lindelof tells us a little about "Prometheus".
http://www.slashfilm.com/damon-lindelof-explains-ridley-scotts-prometheus-connected-alien-films/
Joe Johnston would love to make a sequel to "The Rocketeer"! Alright, we're in!
http://www.filmjournal.com/filmjournal/content_display/news-and-features/features/movies/e3if59b6538fcf8c6c637df82f5a7cf3d79
The first trailer for "Mission: Impossible Ghost Protocol"
http://geekactually.com/2011/06/30/trailer-mission-impossible-ghost-protocol/
Disney confirms a "Thor 2" for 2013.
http://www.variety.com/article/VR1118039365
I want this service in Australia. MoviePass is the NetFlix of the cinema.
http://www.gizmodo.com.au/2011/06/netflix-for-theatres-watch-unlimited-movies-in-cinemas/
Pixar's "Brave", an early teaser to wash the bad taste of "Cars 2" away.
http://geekactually.com/2011/06/30/teaser-trailer-pixars-brave/
Lists of Five
This week our Lists of Five: Five Investigative Films. Whether it be a lawyer, a cop, a journalist… whatever. Films where clues have to be followed and truths revealed to uncover the mystery. Investigative movies are always fun and engrossing, we list five of them.
Just a reminder, because we never like to just make things easy on ourselves, our lists are not necessarily top five lists, they are more or a less a list of film recommendations within the theme of the list.
Listen or download it here or subscribe to it on iTunes
Send feedback for this show to feedback@filmactually.com or leave us a voice mail message to play on the show at (Sydney number) 02 8011 3167 or Skype ID: geekactually (you can also send us an mp3 file if you'd prefer).
The Rest…
David's "My Year With Movies" blog is on Tumbr
Join us on our Facebook Fan Page: facebook.com/GeekActually or follow Geek Actually on Twitter @geekactually
Make sure you check out our new range of Geek Actually swag at cafepress.com.au/geekactually
Find More of Richard Gray at theReelBits.com or DVDbits.com or follow him on Twitter @DVDbits
The Reel Junkies podcast can be found at weekendronin.com
Brad and Charlie (formerly of "Movie Fan House") are back, their new site is ReboundRadio.com and their new podcast is "Good Day Sir!"
Rachelle is over at The Funky Film Show, Thursdays on Radio Freemantle 107.9 FM or radiofreemantle.com
Find out about Josh's other site and to listen to his other show DLC Live go to RawDLC.com or follow him on Twitter @DoGM3At
Check out Nicholas 'The Little Geek' McVay's Lego animations at YouTube.com/NickyMcVay
Our show logo is by Josh Spencer over at Spencer Cartoons at  http://attackninja.blogspot.com
We close the show with the track "Arrival To Earth" from Steve Jablonsky's fantastic score to the first "Transformers".