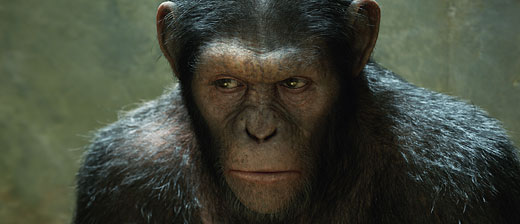 Yesterday I got the opportunity to see about 20 minutes of footage from the new Twentieth Century Fox film "Rise of the Planet of the Apes" and I was very impressed.
Fox gave a nice presentation hosted by Weta Digital's special effects guru Joe Letteri. According to Letteri this is the second biggest film, after "Avatar", that Weta Digital has ever worked on. The film has around 1000 visual effects shots in it. The presentation included behind the scenes footage and final scenes. He talked about the advances in motion capture since working on James Cameron's "Avatar", such as an active mo-cap suit that allowed them to record the motion capture data right there on location so the actors could work directly with the mo-cap performers.
He talked a lot about Andy Serkis, who was once again Weta Digital's go-to-guy. For those who don't know, Andy Serkis was the actor behind the great motion capture performances of Golem from "Lord of the Rings" and King Kong from Peter Jackson's mega budget remake of "King Kong". Serkis will soon be seen in the Mo-Cap version of "The Adventures of Tintin" as Captain Haddock. In "Rise of the Planet of the Apes" Andy plays Caesar, the intelligent Chimp that starts the simian revolution.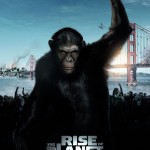 Over all I left the theatre really excited for this film. I would see this film for no other reason than to watch the amazing digital ape performances, there is no "uncanny valley" thing happening here, these apes are alive and have the most expressive eyes and expressions I have ever scene on digital creations. It looks like director Rupert Wyatt was not just content to have brilliant digital apes though, he seems to have also been able to juice out a compelling story that hits a few deep emotional marks.
These 20 minute previews are always hard to assess. It is easy to slip the best stuff into 20 minutes and when the final film comes out it can be a very different experience. In the case of "Super 8", the preview juiced me up and then the film was, well the film was one of my favourites of the year. In the case of "Transformers Dark of the Moon", the 20 minute preview got us all excited only to be slapped in the face by the awful final film. So I don't know if the final film of "Rise of the Planet of the Apes" will be great or not, but I will say that the footage we saw was impressive enough that I want to see more, a lot more.
Fox is obviously very proud of their new film as they have moved the release date up from the end of the year to a worldwide day and date release in August. I can't wait.