There are two filmmakers working today that really know how to market their films; J.J. Abrams and Christopher Nolan. Both of these filmmakers know how to just drip enough information out there to get us frothing at the mouth in excitement without actually telling us anything. This year we had Abrams masterfully handling the marketing campaign of "Super 8" and a short while ago Nolan's campaign for next year's new Batman film "The Dark Knight Rises" started with that early shot of Bain. Now the first teaser poster for "The Dark Knight Rises" has… well, risen.
I love this poster, it is dark, evocative and yet tells us absolutely nothing about the film. The poster really conjures up images from Nolan's previous film, "Inception". Click the image below to see a super hi-rez version of the poster.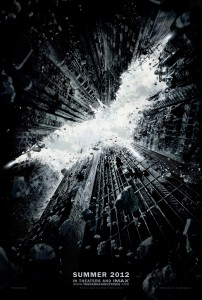 I guess the question here is the image itself, is Gotham falling apart or building up? Let the speculation begin. What do you think the poster is trying to tell us? Comment below.