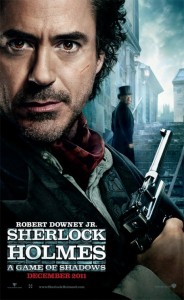 Here is the first trailer for "Sherlock Holmes: A Game of Shadows", the latest Sherlock Holmes adventure directed by Guy Ritchie and starring Robert Downey Jr. as Sherlock and Jude Law as Dr. Watson. They are joined by Noomi Rapace, Eddie Marsan, Stephen Fry and Jared Harris.
I really enjoyed the first Guy Ritchie "Sherlock Holmes". Downey Jr. and Law were just perfect as the bickering partners and Ritchie captured the period Beautifully, so hopes are high for this one.
I had one simple rule when I sat down to watch the first film, entertain me, and it did. So if the second film can offer me up the same entertainment value, it could be a big win. "Sherlock Holmes: A Game of Shadows" opens in December 2011.
You can also (and I do recommend it) see it in hi-def over at Apple.
What did you think? Love to hear your thoughts on a second Sherlock Holmes adventure. Comment below.