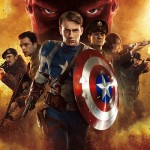 We are getting close now, only another week or so and it is time for the next Marvel comic book character to come to life. I am talking of course about "Captain America: The First Avenger" directed by Joe Johnston.
Chris Evans stars as the good Captain and he is surrounded by a great supporting cast including Hugo Weaving, Tommy Lee Jones, Stanley Tucci and of course Samuel L. Jackson as Nick Fury.
The official synopsis is:
"Captain America: The First Avenger" will focus on the early days of the Marvel Universe when SteveRogers (Chris Evans) volunteers to participate in an experimental program that turns him into the Super Soldier known as Captain America.  As Captain America, Rogers joins forces with Bucky Barnes (Sebastian Stan) and Peggy Carter (Hayley Atwell) to wage war on the evil HYDRA organization, led by the villainous Red Skull (Hugo Weaving.)
Starting with "Thor" and followed up by "X-Men: First Class" (I know it isn't in the same universe, but it is a Marvel property), this has been a good year for Marvel so far and I'm getting so excited about this film that I can hardly contain myself. Thankfully our friends over at Paramount Pictures Australia have supplied us with a new poster (click the thumbnail above to see a hi-res copy) and a few great clips (watch them below) to help pass the time.
And if that wasn't enough, Paramount has also given us a bunch of great hi-res stills from the film to lovingly look over. Some I've seen already and some are new. Click the thumbnails below to see the big images. I particularly love the shot of Hugo Weaving as Red Skull, that snowy cliff top shot and the shot of Peggy shooting her pistol with the car exploding, cool stuff.
"Captain America: The First Avenger" opens across Australia on July 28th. Not soon enough if you ask me.

Captain America-Shield Intro by Paramount_Australia

Captain America-Rebirth by Paramount_Australia

Captain America-Shield Fight by Paramount_Australia