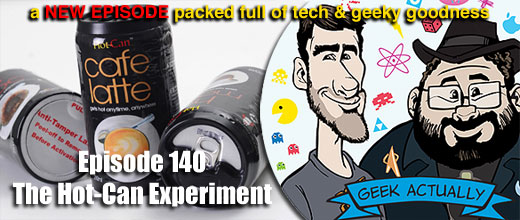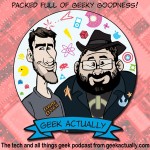 Hosted by: David McVay & Josh Philpott with guest Richard Gray
This week on Geek Actually, David and Josh are again joined by Richard Gray from theReelBits.com for a look at the weird and wonderful world of the geek. This week topics include the R18+ rating for games is a go in Australia, Apple's latest operating system, a fake Apple Store in China, the LOLspeak Bible and are Microsoft and Sony teaming up? We discuss these topics and many more plus our picks of the week and a live demonstration of the self heating can of coffee. Enjoy.
Geek Actually is the fusion of the old Tech Actually and Geek Actually After Show podcasts. All the tech and geek goodness that you have come to expect from the old shows wrapped up and made easier to swallow as one simple, little, tasty podcast. DeltaKnight (AKA DAvid Murray) continues to supply us with some of the geekiest stories on the web and Josh and David love to play with the tech news.
Geek Actually is recorded live on Saturdays around 12pm (AEST UTC+10). Go to geekactually.com/live to watch it live.
Podcast: Play in new window | Download
Your show links follow:
Feedback
The impending Robot Apocalypse
Tristan sent this – Computers that can teach themselves scares me more than anything.
http://arstechnica.com/science/news/2011/07/how-a-computer-beat-civilization-by-rtfm.ars
Geek News
The R18+ rating to pass into law. About friggin' time.
http://www.smh.com.au/digital-life/games/historic-agreement-on-r18-video-games-20110722-1hs78.html?from=smh_sb
Oh, South Australia. One step forward two steps back. Should Facebook be 18+?
http://www.smh.com.au/technology/technology-news/facebook-could-become-adults-only-in-australia-20110722-1hrkg.html
MacOS Lion is out, Apple's next operating system and part one of the three point update.
http://www.apple.com/au/macosx/
Is it worth the upgrade? For $31.99 you bet your ass. Plus there's new hardware too.
And just because it is Apple's week, Apple has officially passed Nokia to become the number one smart phone vendor.
http://www.macrumors.com/2011/07/21/apple-tops-nokia-to-become-worlds-top-smartphone-vendor/
Apple App Store Taiwan has a 7 day return policy. About time, now can we have it.
http://www.macrumors.com/2011/07/15/apple-tweaks-taiwanese-app-store-terms-to-formalize-7-day-return-policy/
Something about this Apple Store just isn't right.
http://gizmodo.com/5822918/fake-chinese-apple-store-looks-amazingly-real/
Remember the Winklevii? Wanna know what the Dean of Harvard really thought?
http://money.cnn.com/2011/07/20/technology/summers_winklevoss_facebook.fortune/index.htm?iid=HP_LN
Is the internet affecting our memory? Researchers seem to think so.
http://www.nytimes.com/2011/07/15/health/15memory.html?_r=3
Rumour time – What is up with Sony-Microsoft?
http://kotaku.com/5821752/why-sony-and-microsoft-teaming-up-on-their-next-console-makes-a-lot-of-sense
and then this – do they have a legit excuse or is the cat out of the bag?
http://www.kotaku.com.au/2011/07/sony-microsoft-com-a-defensive-domain-hold-says-microsoft/
Anonymous is launching it's own Social Network, does anyone dare join?
http://www.computerworld.com/s/article/9218498/Hacker_collective_Anonymous_to_launch_social_networking_site
This is genius – The Bible translated into LOLspeak.
http://www.lolcatbible.com/index.php?title=Main_Page
Wow, there are still real n00bs out there.
http://www.gizmodo.com.au/2011/07/a-man-whos-never-used-a-computer-in-his-life-tries-internet-explorer/
We've said it before & we'll say it again, get outside and meet people once in awhile.
http://www.smh.com.au/lifestyle/wellbeing/generation-y-so-connected-but-oh-so-lonely-survey-20110719-1hn6a.html
DIY Time
The do it yourself geek in me wants to get this. Emergency "Drill Here" stickers.
http://fffff.at/media-artist-contingency-plan/
Speaking of DIY, here is the ultimate Zombie apocalypse survival weapon.
http://artofmanliness.com/2011/07/11/how-to-make-a-survival-shotgun/
Another nerd PSA – The Zombie PSA.
http://info.break.com/break/html/sponsors/comic-con-san-diego-2011-nerd-machine/comic-con-san-diego-2011-nerd-machine.html?episode=11
A Canadian geek builds a huge cardboard R2-D2 – so cool!
http://www.geekologie.com/2011/07/giant-cardboard-r2d2.php
Man builds himself a turbine driven Batmobile – Aawww yeah!
http://www.geekologie.com/2011/07/man-builds-turbinepowered-batmobile.php
Weird Food!
The Hot-Can Experiment. This week we have a practical science project, Cafe Latte in a self heating can – live in studio.
http://hot-can.com/Australia/index2aus.html
Geek Picks of the Week
Every week David, Josh and/or DeltaKnight will give you their geek picks of the week, these could be anything from iPhone apps to a great sandwich recipe (more likely to be an app though).
David is enjoying the new MacOS "Lion" and the "Google+" app on the iPhone (and Richard concurs). Josh is playing the Xbox Live game "Kill Team", a Warhammer style game.
Google+ is now a free app in the Apple App Store.
http://www.gizmodo.com.au/2011/07/google-ios-app-is-now-available/
Star Wars Blu-Ray App previews the boxset's extras.
http://www.techradar.com/news/home-cinema/high-definition/star-wars-blu-ray-extras-to-be-previewed-in-ios-app-980490
As always this episode carries an explicit tag due to possible bad language.
Listen or download it here or subscribe to it on iTunes
If you have any comments about the episode or really geeky links, please leave them in the comments field below or email us at feedback@geekactually.com or send us a voicemail at 02 8011 3167 or Skype ID: geekactually (If you'd prefer to send an mp3 voice mail, mail it to the email address above and make sure the file is under 10mb.).
If you are an iTunes user, please leave us a review or a rating.
Like to geek out at the movies? Listen to our movie show, Film Actually. You can listen to it on the site or subscribe to it on iTunes.
Join us on our Facebook Fan Page: facebook.com/GeekActually or follow Geek Actually on Twitter @geekactually
Make sure you check out our new range of Geek Actually swag at cafepress.com.au/geekactually
Find More of Richard Gray at theReelBits.com or DVDbits.com or follow him on Twitter @DVDbits
The Reel Junkies podcast can be found at weekendronin.com
Brad and Charlie (formerly of "Movie Fan House") are back, their new site is ReboundRadio.com
Find out about Josh's other site and to listen to his other show DLC Live go to RawDLC.com or follow him on Twitter @DoGM3At
Our cover art by Josh Spencer attackninja.blogspot.com and our opening theme is by Grant Noy.