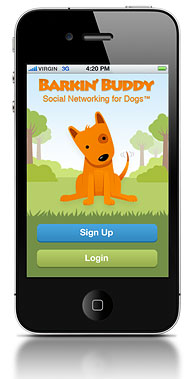 Now here is something a little unusual, a social network for dogs. I, not being a dog owner myself, immediately thought to myself, "really?" But then I spoke to a friend of mine who is a dog owner and lover and they immediately wanted to know how they could get to it. So what do I know?
"Barkin' Buddy" is a new app for the iPhone that is, simply put, a social network and relationship manager for the dog lover. This social networking app allows owners to build profiles, add buddies, make new friends to play with, locate dog friendly locations and ultimately better manage their pet's relationships.
Created by the Radical Ideas Group and available in the iTunes App Store for $1.99, this is going to be the must have app for dog lovers everywhere.
According to the official press release:
"BARKIN' BUDDY is a dog-to-dog relationship management app, set to improve your pet's social life. Once downloaded, simply create a pet profile, add a photo of your pooch and you're on the way to creating your dog's very own social network. Let others know when and where you're heading, share information on hot spots, locate buddies and use it to make new doggy friends."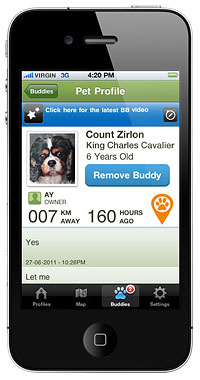 Brilliant! Radical Ideas Group CEO Alexander Bagg (he's also a dog lover) says he came up with the idea when he realised there was a disconnect between current social networks (really designed for people) and the sheer number of dog owners. "Being a dog owner, I felt there was a need to effectively combine the two" Bagg says "pet profile pages on other social platforms can only do so much in terms of actual functionality but with BARKIN' BUDDY, the focus is on the pet and not the person."
Not being a dog owner myself I haven't actually bought the app but I will keep updates on my friend and I would love to here how any of you dog lovers out there go with the app. You can just drop a comment below and we will keep track of them.
You can visit their website here or, if you are already sold on the idea, head over to the App Store here.