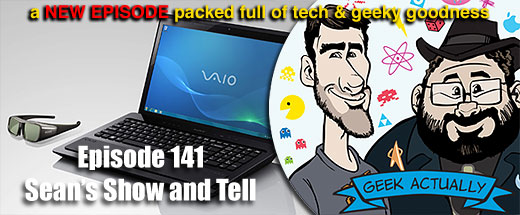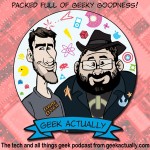 Hosted by: David McVay & Josh Philpott with guest Sean Lindsay
This week on Geek Actually, David and Josh are joined by Sean Lindsay from 3Dhorizon.com.au. Sean has brought in a review unit of the new 3D laptop from Sony and it is magnificent. Also this week, more roadblocks on the way to the R18+ rating for games, Android sales figures might not be as spectacular as they at first look, humans have problems comprehending Androids (the robots not the phones) and more on the fake Chinese Apple Stores. Enjoy.
Geek Actually is the fusion of the old Tech Actually and Geek Actually After Show podcasts. All the tech and geek goodness that you have come to expect from the old shows wrapped up and made easier to swallow as one simple, little, tasty podcast. DeltaKnight (AKA DAvid Murray) continues to supply us with some of the geekiest stories on the web and Josh and David love to play with the tech news.
Geek Actually is recorded live on Saturdays around 12pm (AEST UTC+10). Go to geekactually.com/live to watch it live.
Podcast: Play in new window | Download
Your show links follow:
Feedback
GeekBetty wants to know why this has taken so long.
http://usa.canon.com/cusa/consumer/products/calculators/computer_link_calculators/x_mark_i_m
Sean's Show and Tell
Sean has brought in Sony's current 3D Vaio laptop and handycam for us to play with and drool over.
Geek News
Just when we think the R18+ rating is a go, there is this kind of bullshit.
http://www.gizmodo.com.au/2011/07/watch-gizmodo-on-7-sunrise-live-810am-live-stream-link/
Cult of Mac strikes again.
http://www.gizmodo.com.au/2011/07/enterprising-fool-already-waiting-in-line-for-iphone-5/
MacBook Batteries could be used as bombs…kinda.
http://www.gizmodo.com.au/2011/07/macbook-batteries-are-totally-hackable-wait-what/
Two of the fake Apple stores closed down.
http://www.macrumors.com/2011/07/25/chinese-authorities-close-two-fake-apple-stores-over-permit-issues/
Chinese People pissed at fake Apple stores, they think they got fake Apple stuff.
http://www.gizmodo.com.au/2011/07/real-chinese-customers-very-pissed-at-fake-apple-store/
Onto real Apple stores, here are the Apple Store challenge.
http://www.geeksaresexy.net/2011/07/26/the-apple-store-challenge-video/
Android may be the biggest selling mobile operating system, but….
http://techcrunch.com/2011/07/26/androids-dirty-secret-shipping-numbers-are-strong-but-returns-are-30-40/
Androids might give us a brain fart!
http://www.wired.co.uk/news/archive/2011-07/19/uncanny-valley-tested
Powered paper airplanes…cool!
http://technabob.com/blog/2011/07/26/power-up-electric-paper-airplane/
Even with a Flux Capacitor, you won't be able to time travel says experts.
http://gawker.com/5824259/time-travels-not-possible-say-scientists
As always this episode carries an explicit tag due to possible bad language.
Listen or download it here or subscribe to it on iTunes
If you have any comments about the episode or really geeky links, please leave them in the comments field below or email us at feedback@geekactually.com or send us a voicemail at 02 8011 3167 or Skype ID: geekactually (If you'd prefer to send an mp3 voice mail, mail it to the email address above and make sure the file is under 10mb.).
If you are an iTunes user, please leave us a review or a rating.
Like to geek out at the movies? Listen to our movie show, Film Actually. You can listen to it on the site or subscribe to it on iTunes.
Join us on our Facebook Fan Page: facebook.com/GeekActually or follow Geek Actually on Twitter @geekactually
Make sure you check out our new range of Geek Actually swag at cafepress.com.au/geekactually
Find More of Sean Lindsay at 3Dhorizon.com.au or follow him on Twitter @3DHorizonAU
The Reel Junkies podcast can be found at weekendronin.com
Brad and Charlie (formerly of "Movie Fan House") are back, their new site is ReboundRadio.com
Find out about Josh's other site and to listen to his other show DLC Live go to RawDLC.com or follow him on Twitter @DoGM3At
Our cover art by Josh Spencer attackninja.blogspot.com and our opening theme is by Grant Noy.