Podcast: Play in new window | Download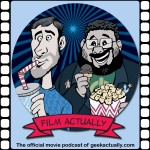 Hosts: David McVay & Josh Philpott and guest Sean Lindsay
This week David and Josh are joined by Sean Lindsay (3dhorizon.com.au) for a review of "Captain America The First Avenger". They also take a look at some entertainment news, including Frank Darbont leaving "The Walking Dead" and the new trailers for "Battleship", "Tower Heist" and "Red State". Plus an all new Lists of Five: Five Classic Movies You Would Like To See Converted To 3D. Film Actually is the official movie podcast of geekactually.com.
If you are an iTunes user, please leave a review. Your comments (good or bad) help us improve the show. This show carries an explicit tag due to infrequent coarse language.
Listen or download it here or subscribe to it on iTunes
Make sure you check out our other fine podcast Geek Actually for all your tech and geek culture needs.
*Update 31/07/2012 – Film Actually was a split off from the main Geek Actually show and originally maintained numbering continuity with that show. That logic no longer works as the shows have become two unique entities, so we have gone back and re-numbered the Film Actually shows to reflect their true episode number. This show is now officially episode 49 but when you listen to the show you will hear it referred to as episode 141, this is why. Sorry about any confusion or inconvenience.
Film Actually is recorded live every Saturday. Go to geekactually.com/live for the schedule and to watch it
Your show notes:
What We've Been Watching
Films featured in the section are "Hanna", "Rise of the Planet of the Apes", "Your Highness", "Apocalypse Now", "Akira" and "Triangle".
Feature Film Review
"Captain America The First Avenger" directed by Joe Johnston and written by Christopher Markus and Stephen McFeely based on the Marvel Comics character created by Joe Simon and Jack Kirby. It stars Chris Evans, Hugo Weaving, Tommy Lee Jones, Stanley Tucci, Hayley Atwell, Sebastian Stan, Dominic Cooper and Toby Jones.
It is 1942, America has entered World War II, and sickly but determined Steve Rogers is frustrated at being rejected yet again for military service. Everything changes when Dr. Erksine recruits him for the secret Super Soldier Program. Proving his extraordinary courage, wits and conscience, Rogers undergoes the experiment and his weak body is transformed into a powerful Super Soldier. When the project is sabotaged by the Evil Red Skull's agent, Rogers is left as a unique man who is initially misused as a propaganda mascot. However, when his comrades need him, Rogers goes on a successful adventure that truly makes him Captain America. Along with his best friend Bucky and the Howling Commandos, Captain America sets out to destroy the Red Skull and his evil Hydra organisation.
Our Verdict: An excellent comic book adaptation. A great fun adventure film that will make you smile.
Watch the trailer here: http://trailers.apple.com/trailers/paramount/captainamericathefirstavenger/
Entertainment Buzz
First Trailer for Peter Berg's "Battleship". What does this have to do with the game?
http://geekactually.com/2011/07/31/trailer-battleship/
Frank Darabont steps down as show runner for "The Walking Dead".
http://www.deadline.com/2011/07/walking-dead-shocker-frank-darabont-steps-down-as-showrunner/
The trailer for Brett Ratner's new film "Tower Heist"
http://geekactually.com/2011/07/31/trailer-tower-heist/
Talk about confusing: Joe Pesci sues studio because he is dropped from Gotti Pic.
http://www.news.com.au/entertainment/movies/actor-joe-pesci-sues-the-producers-of-gotti-in-the-shadow-of-my-father-claiming-he-got-fat-for-a-role-promised-to-him/story-e6frfmvr-1226103772910
The double standards of the Comic-Con dress code.
http://www.news.com.au/entertainment/fashion/actress-and-americas-next-top-model-winner-adrianne-curry-kicked-out-of-comic-con-2011-for-aeon-flux-outfit/story-e6frfn7i-1226103177034
The new Red Band trailer for "Red State" – wow!
http://geekactually.com/2011/07/31/new-trailer-kevin-smiths-red-state/
Lists of Five
This week our Lists of Five: Five Classic Movies You Would Like To See Converted To 3D. Let's start with a little caveat, we really don't want to see any film converted to 3D, but if they are going to do it anyway here are five that we would like to see.
Just a reminder, because we never like to just make things easy on ourselves, our lists are not necessarily top five lists, they are more or a less a list of film recommendations within the theme of the list.
The Rest…
David's "My Year With Movies" blog is on Tumbr
Join us on our Facebook Fan Page: facebook.com/GeekActually or follow Geek Actually on Twitter @geekactually
Make sure you check out our new range of Geek Actually swag at cafepress.com.au/geekactually
The Reel Junkies podcast can be found at weekendronin.com
Brad and Charlie (formerly of "Movie Fan House") are back, their new site is ReboundRadio.com and their new podcast is "Good Day Sir!"
Rachelle is over at The Funky Film Show, Thursdays on Radio Freemantle 107.9 FM or radiofreemantle.com
Find out about Josh's other site and to listen to his other show DLC Live go to RawDLC.com or follow him on Twitter @DoGM3At
Find More of Sean Lindsay at 3Dhorizon.com.au or follow him on Twitter @3DHorizonAU. Remember to like the 3D Horizon AU Facebook page to go into the running to win that great Captain America trade hardback from Sean. For details for here.
Our show logo is by Josh Spencer over at Spencer Cartoons at  http://attackninja.blogspot.com
Our opening clip this week is from the 1990 film "Captain America".
We close the show with the 'Captain America March' from the "Captain America The First Avenger" soundtrack by Alan Silvestri.