Yesterday was the big Superman costume reveal and today I wake up to find that /Film has posted the first image of Anne Hathaway in costume as Selina Kyle/Catwoman from "The Dark Knight Rises". Unlike the leaked set pictures of Bane, this looks like it is an official publicity shot.
When we heard the casting news of Anne Hathaway as Selina Kyle/Catwoman here at Geek Actually it was received with mixed feelings. I for one think that Nolan knows what he is doing and Hathaway could work as Catwoman. She certainly has the looks for the role and she has put in some very good performances lately, just take a look at "Love and Other Drugs" as an example. But strangely Nolan's camp has been very coy about mentioning the word Catwoman, Hathaway is always just called Selina Kyle. Could this be some kind of origin story for her and she doesn't become Catwoman until the end of the film? This kind of makes sense as her costume has no ears, a detail that my wife zeroed in on almost instantly. We also heard rumours that Selina Kyle might be assisting Batman and this new photo kind of hints at that as she is riding the Batpod. (Click the image below for the big version)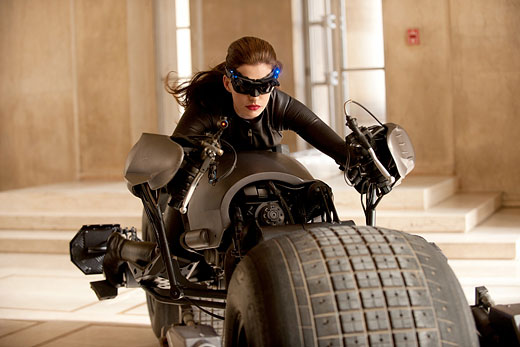 Anyway, just thought I'd share the photo with you good readers and I would love to hear your thoughts on the new look Catwoman so comment below or on our Facebook page.