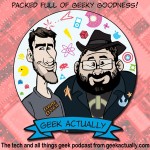 Hosted by: David McVay & Josh Philpott with guest Richard Gray
This week on Geek Actually, iPhone 5 knock offs already out in the wild, Adobe Edge might be a Flash killer, Microsoft unleashes the Gmail Man, Samsung Galaxy 10.1 delayed in Australia because of Apple lawsuit, a Swedish man tries to build a nuclear reactor in his kitchen and human tissue Jello. Enjoy.
Geek Actually is the fusion of the old Tech Actually and Geek Actually After Show podcasts. All the tech and geek goodness that you have come to expect from the old shows wrapped up and made easier to swallow as one simple, little, tasty podcast. DeltaKnight (AKA DAvid Murray) continues to supply us with some of the geekiest stories on the web and Josh and David love to play with the tech news.
Geek Actually is recorded live on Saturdays around 12pm (AEST UTC+10). Go to geekactually.com/live to watch it live.
Podcast: Play in new window | Download
Your show links follow:
Feedback
The chimp with the AK-47!
http://youtu.be/jbC5HYzgH_8
Listener Matt sent us this link to this great black box inspirational poster.
http://www.despair.com/adaptation.html
Listener Tristen sent us this great link awesome but dangerous gaming!
http://www.engadget.com/2011/08/03/outrun-ar-project-lets-you-game-and-drive-at-the-same-time-make/
Geek News
The Impending Robot Apocalypse is alive and well my friends
An artificial neural network has been created – next step Skynet!
http://www.geekologie.com/2011/07/now-why-you-do-that-scientists-create-li.php
Ah autonomous swarm-bots and quadcopter, this could be fun.
http://www.geekologie.com/2011/07/the-end-is-nigh-autonomous-swarmbots-bui.php
iPhone 5 knock offs already available in China, the phone isn't even out yet!
http://www.macrumors.com/2011/08/01/iphone-5-knockoffs-showing-up-in-china-already/
The death of Flash is nigh!
http://www.macrumors.com/2011/08/01/adobe-debuts-preview-version-of-adobe-edge-for-creating-html5-web-animations/
Malcolm Turnbull questioned over what the oppositions plans for the NBN are.
http://www.theaustralian.com.au/business/in-depth/malcolm-turnbull-challenged-over-coalition-broadband-costing/story-e6frgaif-1226107302987
Microsoft strikes out at Google for reading email, and they want you to buy their crap.
http://www.gizmodo.com.au/2011/07/microsoft-thinks-gmail-sure-is-hilarious/
Britain legalises the copying of DVD/CDs for use on a digital device.
http://www.reuters.com/article/2011/08/02/us-britain-copyright-idUSTRE7715BP20110802
The NBN hacked, not so much.
http://www.gizmodo.com.au/2011/07/the-nbn-has-been-hacked-by-evil-err-no/
Apple extends iTunes music previews to 90 seconds.
http://www.macrumors.com/2011/07/30/apple-extends-itunes-previews-to-90-seconds-internationally/
Samsung delays Galaxy Tap 10.1 Australian launch until legal woes with Apple are over.
http://www.smartoffice.com.au/Technology/Industry/K2H9H9V5 and
http://www.gizmodo.com.au/2011/08/samsungs-full-response-on-australian-galaxy-tab-10-1-battle-with-apple/
Geek Stuff
A Swedish man is arrested for attempting to build a nuclear reactor in his home.
http://www.gizmodo.com.au/2011/08/man-arrested-before-he-can-finish-his-nuclear-reactor/
What is this strange thing at the bottom of the ocean?
http://www.geekologie.com/2011/08/ufo-found-at-the-bottom-of-the-ocean.php
Obviously a dog lover made this :-)
http://www.youtube.com/watch?v=qpl5mOAXNl4&feature=channel_video_title
A Lego dragon that breathes fire!! Oh yeah.
http://technabob.com/blog/2011/07/30/lego-fire-breathing-dragon/
Now this is a way to dispose of a loved ones ashes!
http://www.geekologie.com/2011/07/i-just-shot-grandma-company-packs-ammo-w.php
The greatest 404 error page in history.
http://www.gizmodo.com.au/2011/08/behold-the-greatest-404-error-page-on-the-entire-internet/
This is a USB drive that touches my, I want one.
http://technabob.com/blog/2011/07/30/camera-usb-drive/
And the ISO stick is also an awesome USB stick, I want one of these too!
http://technabob.com/blog/2011/08/01/isostick-usb-drive/
Weird Food!
Delta is back to make our taste buds flutter. How about human tissue Jello! Mmmmm.
http://inhabitat.com/scientists-grow-gelatin-derived-from-human-tissue/human-gelatin-2/
Geek Picks of the Week
Every week David, Josh and/or DeltaKnight will give you their geek picks of the week, these could be anything from iPhone apps to a great sandwich recipe (more likely to be an app though).
David is loving "Dragon Dictate 2.5" for Macintosh from Nuance and "Skype for iPad" from Microsoft (Free). Richard recommends the exhibition "The Art of the Brick" by Nathan Sawaya (find out more by going to brickartist.com) and movie watching with "Mubi" for PS3. Josh is loving his new Android phone and his App picks are "Grand Prix Story" and "Juice Defender" available from the Android App Marketplace.
As always this episode carries an explicit tag due to possible bad language.
Listen or download it here or subscribe to it on iTunes
If you have any comments about the episode or really geeky links, please leave them in the comments field below or email us at feedback@geekactually.com or send us a voicemail at 02 8011 3167 or Skype ID: geekactually (If you'd prefer to send an mp3 voice mail, mail it to the email address above and make sure the file is under 10mb.).
If you are an iTunes user, please leave us a review or a rating.
Like to geek out at the movies? Listen to our movie show, Film Actually. You can listen to it on the site or subscribe to it on iTunes.
Join us on our Facebook Fan Page: facebook.com/GeekActually or follow Geek Actually on Twitter @geekactually
Make sure you check out our new range of Geek Actually swag at cafepress.com.au/geekactually
Find More of Richard Gray at theReelBits.com or follow him on Twitter @DVDbits
The Reel Junkies podcast can be found at weekendronin.com
Brad and Charlie (formerly of "Movie Fan House") are back, their new site is ReboundRadio.com
Find out about Josh's other site and to listen to his other show DLC Live go to RawDLC.com or follow him on Twitter @DoGM3At
Our cover art by Josh Spencer attackninja.blogspot.com and our opening theme is by Grant Noy.
GEEK ON!