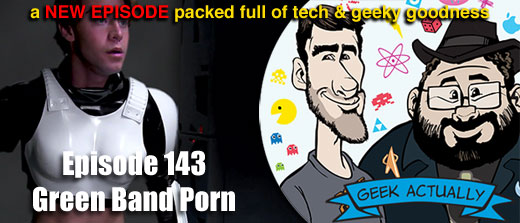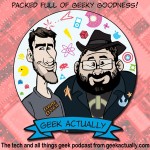 Hosted by: David McVay, Josh Philpott & Richard Gray
This week on Geek Actually, the Facebook phone book issue, Anonymous declares war on Facebook, smart phones will probably be the gaming consoles of 2015, the Star Wars porn parody is upon us, Android watches, geeky food sculptures, beautiful WWII colour photographs and HP used to know nothing about computers. All this plus the picks of the week and listener feedback. Enjoy.
Geek Actually is the fusion of the old Tech Actually and Geek Actually After Show podcasts. All the tech and geek goodness that you have come to expect from the old shows wrapped up and made easier to swallow as one simple, little, tasty podcast. DeltaKnight (AKA DAvid Murray) continues to supply us with some of the geekiest stories on the web and Josh and David love to play with the tech news.
Geek Actually is recorded live on Saturdays around 12pm (AEST UTC+10). Go to geekactually.com/live to watch it live or you can also now watch the live show on Facebook – Click here to watch.
Podcast: Play in new window | Download
Your show links follow:
Feedback
Listener Matt wants to send us a new warning regarding Facebook.
http://nakedsecurity.sophos.com/2011/08/11/has-facebook-got-your-mobile-number-now-your-friends-do-too/
Listener Tristan sends us a couple of interesting stories.
http://www.engadget.com/2011/08/09/microsofts-kinectfusion-research-project-offers-real-time-3d-re/
and http://www.engadget.com/2011/08/09/perceptive-pixel-unveils-an-82-inch-multi-touch-lcd-tv-news-anc/
Our FIlm Actually prank caller identifies himself
http://unrecognizedgeniuses.podomatic.com/
Geek News
Another use for artificial skin.
http://www.gizmodo.com.au/2011/08/using-robot-skin-will-turn-any-forensics-team-into-batmen/
This ought to be fun to watch, Anonymous declares war on Facebook.
http://www.gizmodo.com.au/2011/08/anonymous-to-destroy-facebook-on-november-5th/
TV Manufacturers must be nervous, portable devices are the second home TV.
http://allthingsd.com/20110801/why-watch-tv-at-home-when-you-have-a-perfectly-good-iphone-to-squint-at/
Oh I'm going to get hate mail for this, but no truer words have ever been spoken.
http://www.collegehumor.com/video/6583358/why-religious-people-are-nerds
Say goodbye to your bandwidth cap, Skype 5.3 for Mac has HD video calling.
http://www.macrumors.com/2011/08/08/skype-5-3-for-mac-adds-hd-video-calling-and-full-os-x-lion-support/
Your smart phone will probably be your gaming console by 2015.
http://www.redmondpie.com/smartphones-in-2015-to-be-as-powerful-as-xbox-360-iphone-8-could-be-your-next-gaming-console-report/
Geeky Stuff
Nokia's advertising fail!
http://www.gizmodo.com.au/2011/08/why-is-this-nokia-lady-using-an-iphone/
PC speakers gone mad!
http://www.geekologie.com/2011/08/that-is-like-waaaaaaaaaay-too-many-watts.php
This is like something out of a Batman comic. My god I love the Chinese.
http://www.gizmodo.com.au/2011/08/the-great-chinese-ipad-zipline-smuggling-ring/
How often do we really need to shave on the go?
http://www.geekologie.com/2011/08/shave-on-the-go-carzor-razor-fits-in-wal.php
We do love our porn parodies, here is a new Stars Wars one. Fear not, it is safe for work.
http://www.geekologie.com/2011/08/you-get-the-popcorn-star-wars-pr0n-parod.php
A lot has been said about Nano watches, here is the Android version.
http://www.gizmodo.com.au/2011/08/not-another-nano-watch-this-ones-running-android/
Weird Food!
The French aren't like you and me. Meet the duck press.
http://www.gizmodo.com.au/2011/08/the-classy-way-to-crush-a-duck-and-drink-its-blood/
Geek Food Sculptures. Way cool.
http://www.geeksaresexy.net/2011/08/08/the-geektastic-food-art-of-okistugu-kado/
A Little Slice of History
Listener Tristan sent this article in for the photographers and I had to share.
http://www.theatlantic.com/infocus/2011/08/world-war-ii-the-american-home-front-in-color/100122/
The founder of HP apologises for knowing nothing about computers… 55 years ago.
http://www.gizmodo.com.au/2011/08/55-years-ago-the-founder-of-hp-apologised-for-knowing-nothing-about-computers/
Geek Picks of the Week
Every week David, Josh and/or DeltaKnight will give you their geek picks of the week, these could be anything from iPhone apps to a great sandwich recipe (more likely to be an app though).
Heres a very interesting (but scary) Android app. Josh you need to get onto this.
http://technabob.com/blog/2011/08/08/android-network-hacker-toolkit/
This is a clever little iPhone case and perfect for students.
http://www.gizmodo.com.au/2011/08/smart-phone-note-iphone-4-case-is-actually-quite-smart/
As always this episode carries an explicit tag due to possible bad language.
Listen or download it here or subscribe to it on iTunes
If you have any comments about the episode or really geeky links, please leave them in the comments field below or email us at feedback@geekactually.com or send us a voicemail at 02 8011 3167 or Skype ID: geekactually (If you'd prefer to send an mp3 voice mail, mail it to the email address above and make sure the file is under 10mb.).
If you are an iTunes user, please leave us a review or a rating.
Like to geek out at the movies? Listen to our movie show, Film Actually. You can listen to it on the site or subscribe to it on iTunes.
Join us on our Facebook Fan Page: facebook.com/GeekActually or follow Geek Actually on Twitter @geekactually
Make sure you check out our new range of Geek Actually swag at cafepress.com.au/geekactually
Find More of Richard Gray at theReelBits.com or follow him on Twitter @DVDbits
The Reel Junkies podcast can be found at weekendronin.com
Brad and Charlie (formerly of "Movie Fan House") are back, their new site is ReboundRadio.com
Find out about Josh's other site and to listen to his other show DLC Live go to RawDLC.com or follow him on Twitter @DoGM3At
Our cover art by Josh Spencer attackninja.blogspot.com and our opening theme is by Grant Noy.
GEEK ON!