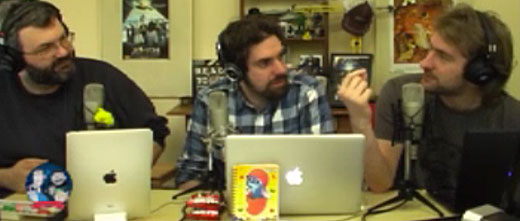 Here are this week's live shows presented in the same order that we recorded them. We start with the all new Geek Actually and then move onto Film Actually. Because the show is live, you get it here with all the mistakes intact.
The Geek Actually podcasts are recorded live every Saturday from 12pm (AEST) or UTC +10 at geekactually.com/live
 – You can now watch us live on Facebook by clicking here.
Check the individual audio show posts for the show notes. Watch the videos below.
Geek Actually Ep143 – Green Band Porn
This week on Geek Actually, the Facebook phone book issue, Anonymous declares war on Facebook, smart phones will probably be the gaming consoles of 2015, the Star Wars porn parody is upon us, Android watches, geeky food sculptures, beautiful WWII colour photographs and HP used to know nothing about computers. All this plus the picks of the week and listener feedback.
Film Actually Ep143 – Green Lantern
This week David, Josh and Richard Gray (theReelBits.com) review the new superhero film "Green Lantern". They also take a look at the new trailers for "50/50" and "A Very Harold and Kumar 3d Christmas" plus take in a little entertainment news. All this and we still have time for an all new Lists of Five: Five Movies With a Colour in the Title.
All Geek Actually shows carry an explicit tag due to infrequent coarse language.
You can subscribe to the audio podcasts by searching for "Film Actually" or "Geek Actually" in iTunes
You can send feedback for the shows at feedback@geekactually.com or feedback@filmactually.com. You can also leave us a voice mail to play on the show by calling (Sydney number) 02 8011 3167 (or Skype ID: geekactually)
Join us on our Facebook Fan Page: facebook.com/GeekActually
Follow us on Twitter: David is @davidmcvay, Josh is @DoGM3At, Richard is @DVDbits and Geek Actually is @geekactually
Get your Geek Actually swag at cafepress.com.au/geekactually
For information on the Unofficial Geek Actually Movie Club screening times and titles, visit our Facebook Page. Geek Actually logos by Josh Spencer (attackninja.blogspot.com) – Old Tech Actually Theme by Grant Noy – Geek Actually theme arranged by David McVay.