Podcast: Play in new window | Download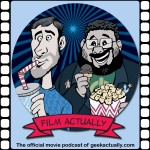 Hosts: David McVay & Josh Philpott and guest Richard Gray
This week David, Josh and Richard Gray (theReelBits.com) review the new superhero film "Green Lantern". They also take a look at the new trailers for "50/50" and "A Very Harold and Kumar 3d Christmas" plus take in a little entertainment news. All this and we still have time for an all new Lists of Five: Five Movies With a Colour in the Title. Film Actually is the official movie podcast of geekactually.com.
If you are an iTunes user, please leave a review. Your comments help us improve the show. This show carries an explicit tag due to infrequent coarse language.
Listen or download it here or subscribe to it on iTunes
Make sure you check out our other fine podcast Geek Actually for all your tech and geek culture needs.
*Update 31/07/2012 – Film Actually was a split off from the main Geek Actually show and originally maintained numbering continuity with that show. That logic no longer works as the shows have become two unique entities, so we have gone back and re-numbered the Film Actually shows to reflect their true episode number. This show is now officially episode 51 but when you listen to the show you will hear it referred to as episode 143, this is why. Sorry about any confusion or inconvenience.
Film Actually is recorded live every Saturday. Go to geekactually.com/live for the schedule and to watch it
Your show notes:
Before We Begin…
Feedback and what we've been watching.
GeekBetty wanted to tell us about ClipJoint
http://www.guardian.co.uk/film/filmblog/2011/aug/10/clip-joint-unexpected-dancing
and the great behind-the-scenes doco of The Shining DVD is online.
http://video.google.com/videoplay?docid=-4745727919325920852&hl=en
Feature Film Review
'Green Lantern' directed by Martin Campbell and written by Greg Berlanti, Michael Green, Marc Guggenheim and Michael Goldenberg based on the DC Comics character. It stars Ryan Reynolds, Blake Lively, Peter Sarsgaard, Mark Strong, Tim Robbins, Temuera Morrison, Angela Bassett and the voices of Michael Clarke Duncan and Geoffrey Rush.
In a universe as vast as it is mysterious, a small but powerful force has existed for centuries. Protectors of peace and justice, they are called the Green Lantern Corps. A brotherhood of warriors sworn to keep intergalactic order, each Green Lantern wears a ring that grants him superpowers. But when a new enemy called Parallax threatens to destroy the balance of power in the Universe, their fate and the fate of Earth lie in the hands of their newest recruit, the first human ever selected: Hal Jordan. Hal is a gifted and cocky test pilot, but the Green Lanterns have little respect for humans, who have never harnessed the infinite powers of the ring before. Source: Warner Bros.
Our Verdict: Not as bad as we were led to believe. By no means a great film but a fun popcorn movie. David felt it would be better suited for a DVD/Blu-Ray viewing rather than cinema dollars. Josh and Richard felt that it was worth the price of admission.
Watch the trailer here: http://geekactually.com/2011/05/24/brand-new-trailer-green-lantern/
Entertainment Buzz
Jason "Conan" Mamoa writes his own sequel.
http://www.craveonline.com/film/articles/172223-exclusive-jason-momoa-writing-a-conan-sequel
New 50/50 trailer. I am really looking forward to this film.
http://movies.yahoo.com/movie/1810212128/video/26251727
Home 3D is finally getting a standard.
http://www.gizmodo.com.au/2011/08/manufacturers-are-finally-standardising-3d-glasses-together/
A cinema made of fridges, this is pretty cool (pun intended!).
http://www.guardian.co.uk/film/filmblog/2011/aug/01/films-on-fridges-cinema-recycling
The trailer for "A Very Harold & Kumar 3D Christmas".
http://movies.yahoo.com/movie/1810165651/video/26241813
We got our wish, the new Riddick film is a direct sequel to "Pitch Black"!
http://www.moviehole.net/201143902-exclusive-riddick-begins-casting-character-descriptions
Sony is so confident about "The Amazing Spider-Man" the sequel is already scheduled.
http://www.deadline.com/2011/08/sony-dates-amazing-spider-man-sequel/
The red band "The Sitter" trailer – wrong in every way!
http://au.ign.com/videos/2011/08/04/the-sitter-red-band-trailer
Lists of Five
This week our Lists of Five: Five Movies with a Colour in the Title. Green Lantern got us thinking, how many really good movies have a colour in the title? Here are five of them.
Just a reminder, because we never like to just make things easy on ourselves, our lists are not necessarily top five lists, they are more or a less a list of film recommendations within the theme of the list.
Before we go we played a quick tease from "Puss in Boots".
http://www.youtube.com/watch?v=8LVf1swl9uQ&feature=player_embedded 
The Rest…
David's "My Year With Movies" blog is on Tumbr
Join us on our Facebook Fan Page: facebook.com/GeekActually or follow Geek Actually on Twitter @geekactually
Make sure you check out our new range of Geek Actually swag at cafepress.com.au/geekactually
The Reel Junkies podcast can be found at weekendronin.com
Brad and Charlie (formerly of "Movie Fan House") are back, their new site is ReboundRadio.com and their new podcast is "Good Day Sir!"
Rachelle is over at The Funky Film Show, Thursdays on Radio Freemantle 107.9 FM or radiofreemantle.com
Find out about Josh's other site and to listen to his other show DLC Live go to RawDLC.com or follow him on Twitter @DoGM3At
Find More of Richard Gray at theReelBits.com or on Twitter @DVDbits.
Our show logo is by Josh Spencer over at Spencer Cartoons at  http://attackninja.blogspot.com
Our opening clip this week is from the reviewed film "Green Lantern".
We close the show with the 'We're Going To Fly Now' from the "Green Lantern" soundtrack by James Newton Howard.