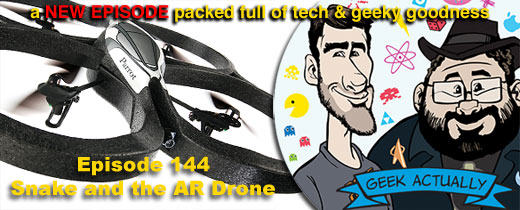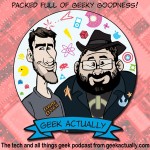 Hosted by: David McVay, Josh Philpott & Matt White
This week on Geek Actually, Steve Jobs resigns from Apple, the R18+ rating for games is a go in Australia, OS X Lion on USB, rubber Band machine guns, the world's biggest BLT and Matt brings in an AR Drone for a live demonstration in studio. All this plus the picks of the week and listener feedback. Enjoy.
Geek Actually is the fusion of the old Tech Actually and Geek Actually After Show podcasts. All the tech and geek goodness that you have come to expect from the old shows wrapped up and made easier to swallow as one simple, little, tasty podcast. DeltaKnight (AKA DAvid Murray) continues to supply us with some of the geekiest stories on the web and Josh and David love to play with the tech news.
The Geek Actually show is going to take a short break due to moving studio. The podcast will be back in approximately 3 weeks.
Geek Actually is recorded live on Saturdays around 12pm (AEST UTC+10). Go to geekactually.com/live to watch it live or you can also now watch the live show on Facebook – Click here to watch.
Podcast: Play in new window | Download
Your show links follow:
Feedback
Listener Tristan has alerted us to these ultra creepy swarmbots.
http://www.engadget.com/2011/08/14/swarm-robots-attack-your-bookshelf-win-aaai-oscar/
Josh Spencer also alerted us to some disturbing robot apocalypse news.
http://www.nationaldefensemagazine.org/blog/Lists/Posts/Post.aspx?ID=498
Listener Matt wanted us to be aware of Facebook's new privacy settings
http://www.reuters.com/article/2011/08/23/us-facebook-idUSTRE77M6AH20110823
GeekBetty Found the sweetest Lego build yet. A fully working camera.
http://carynorton.com/legotron-mark-i
Matt White has finally brought in the AR Drone and we want to hear all about the fun he's been having.
The Rest
Holy Crap, Steve Jobs resigns as Apple CEO!
http://news.cnet.com/8301-27076_3-20096895-248/steve-jobs-steps-down-from-apple/
http://news.cnet.com/8301-13579_3-20096918-37/a-look-at-tim-cook-the-man-replacing-steve-jobs/
http://news.cnet.com/8301-13579_3-20097138-37/when-does-apples-tim-cook-era-really-begin/
Is there really anything else to talk about this week?
Want to fight obesity and laziness? Maybe it is tech's fault.
http://thenextweb.com/lifehacks/2011/08/15/11-ways-tech-has-made-us-lazy/
The R18+ rating for games is a go!
http://smarthouse.com.au/Gaming/Industry/V4P3F8F7
But that doesn't stop us from Banning until then
http://www.gamerevolution.com/news/australia-scared-of-zombies-bans-house-of-the-dead-7965
Those with bandwidth caps rejoice, OS X Lion ships on a USB key.
http://www.macrumors.com/2011/08/16/apple-starts-selling-69-os-x-lion-usb-thumb-drive/
Holy crap! This woman wants to be a horse.
http://www.geekologie.com/2011/08/you-will-never-be-a-centaur-woman-inject.php
Louisville mounted police get computers… on their horses.
http://www.gizmodo.com.au/2011/08/mounted-police-are-installing-computers-onto-their-horses/
A real Wheatley! Well a puppet, but it is cool.
http://www.geekologie.com/2011/08/superrealistic-portal-2-wheatley-puppet.php
Oh Man! Make this a 'Surface' style interface and I am in!
http://www.geeksaresexy.net/2011/08/11/want-giant-iphone-4-table-video/
I want an Emotigraph right now!
http://technabob.com/blog/2011/08/14/emotigraph-wooden-face
While on the subject of wodden things, how about a rubber band machine gun?
http://technabob.com/blog/2011/08/25/rubber-band-submachine-gun/
Weird Food!
We geeks love big food! The world's biggest BLT!
http://www.gizmodo.com.au/2011/08/the-biggest-blt-ever-weighs-a-ton-literally/
Cherkees = geek snack!
http://www.gizmodo.com.au/2011/08/beef-jerky-potato-chip-hybrid-is-the-pinnacle-of-human-innovation/
The NES lunch box… WAY COOL!
http://www.geekologie.com/2011/08/broken-nes-lunchbox-w-controller-handle.php
Just for fun
A Lego Millennium Falcon being built in time lapse.
http://www.gizmodo.com.au/2011/08/the-lego-millennium-falcon-2011-time-lapse/
Geek Picks of the Week
Every week David, Josh and/or DeltaKnight will give you their geek picks of the week, these could be anything from iPhone apps to a great sandwich recipe (more likely to be an app though).
This week we all want an AR Drone. Josh also highly recommends the new computer game "Deus Ex: Human Revolution". Matt recommends the iOS games "Solomon's Keep" and "Solomon's Boneyard" both of which are free at the moment.
As always this episode carries an explicit tag due to possible bad language.
Listen or download it here or subscribe to it on iTunes
If you have any comments about the episode or really geeky links, please leave them in the comments field below or email us at feedback@geekactually.com or send us a voicemail at 02 8011 3167 or Skype ID: geekactually (If you'd prefer to send an mp3 voice mail, mail it to the email address above and make sure the file is under 10mb.).
If you are an iTunes user, please leave us a review or a rating.
Like to geek out at the movies? Listen to our movie show, Film Actually. You can listen to it on the site or subscribe to it on iTunes.
Join us on our Facebook Fan Page: facebook.com/GeekActually or follow Geek Actually on Twitter @geekactually
Make sure you check out our new range of Geek Actually swag at cafepress.com.au/geekactually
Find More of Matt White (known as SnakeAUS) at dlccrew.com
The Reel Junkies podcast can be found at weekendronin.com
Brad and Charlie (formerly of "Movie Fan House") are back, their new site is ReboundRadio.com
Find out about Josh's other site and to listen to his other show DLC Live go to RawDLC.com or follow him on Twitter @DoGM3At
Our cover art by Josh Spencer attackninja.blogspot.com and our opening theme is by Grant Noy.
GEEK ON!