Podcast: Play in new window | Download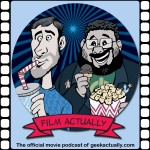 Hosts: David McVay & Josh Philpott
This week the podcast gets re-numbered, this is now episode 53 or 145 in old money. David and Josh review the comedy "Horrible Bosses" and the quirky Irish film "The Guard". They also take a look at the new trailer for "The Rum Diaries" and deliver an all new and very personal Lists of Five: Five Actors/Actresses/Directors You Will Watch No Matter What They Do. Film Actually is the official movie podcast of geekactually.com.
If you are an iTunes user, please leave a review. Your comments help us improve the show. This show carries an explicit tag due to infrequent coarse language.
*Note* The Film Actually show is going to take a short break from live shows for about three weeks due to us moving studio. The audio podcast will come out as normal during this time.
Listen or download it here or subscribe to it on iTunes
Make sure you check out our other fine podcast Geek Actually for all your tech and geek culture needs.
Film Actually is recorded live every Saturday. Go to 
http://geekactually.com/live for the schedule and to watch it or you can also now watch the live show on Facebook – Click here to watch.
Your show notes and links follow:
What We've Been Watching
A collection of other things that we have seen throughout the week. Kevin Smith's "Red State", "Fast Five" on Blu-Ray and the TV series "Monster" are discussed.
Feature Film Review 1
'Horrible Bosses' directed by Seth Gordon and written by Michael Markowitz, John Francis Daley and Jonathan Goldstein. It stars Jason Bateman, Charlie Day, Jason Sudeikis, Kevin Spacey, Colin Farrell, Jennifer Aniston and Jamie Foxx.
For Nick, Kurt and Dale, the only thing that would make the daily grind more tolerable would be to grind their intolerable bosses into dust. Quitting is not an option, so, with the benefit of a few-too-many drinks and some dubious advice from a hustling ex-con, the three friends devise a convoluted and seemingly foolproof plan to rid themselves of their respective employers… permanently. There's only one problem: even the best laid plans are only as foolproof as the brains behind them. Source: Warner Bros.
Our Verdict: A funny but flawed film that succeeds because of a very funny cast.
Watch the trailer here: http://trailers.apple.com/trailers/wb/horriblebosses/
Feature Film Review 2
'The Guard' written and directed by John Michael McDonagh. It stars Brendan Gleeson, Don Cheadle, David Wilmot, Liam Cunningham, Rory Keenan, Fionnula Flanagan and Mark Strong.
Sergeant Gerry Boyle is a small-town Irish cop with a confrontational personality, a subversive sense of humor, a dying mother, a fondness for prostitutes, and absolutely no interest whatsoever in the international cocaine-smuggling ring that has brought straight-laced FBI agent Wendell Everett to his door. Source: Element Pictures.
Our Verdict: A must see quirky Irish comedy with a brilliant central performance by Brendan Gleeson.
Watch the trailer here: http://trailers.apple.com/trailers/sony/theguard/
Entertainment Buzz
They never learn, Piracy doubles when Fox delays.
http://www.slashfilm.com/piracy-doubles-result-foxs-decision-delay-run-shows-availability-hulu/
Johnny Depp and Hunter S. Thompson, a match made in heaven. The trailer for The Rum Diaries.
http://www.youtube.com/watch?v=C75-dj679uo
Lists of Five
This week our Lists of Five: Five Actors/Actresses/Directors You Will Watch No Matter What They Do. There are certain actors, actresses or directors that just speak to you and no matter what they make, good or bad, you will watch it. Here are five of ours.
Just a reminder, because we never like to just make things easy on ourselves, our lists are not necessarily top five lists, they are more or a less a list of film recommendations within the theme of the list.
Feedback
We run through the week's listener feedback.
The Rest…
David's "My Year With Movies" blog is on Tumbr
Join us on our Facebook Fan Page: facebook.com/GeekActually or follow Geek Actually on Twitter @geekactually
Make sure you check out our new range of Geek Actually swag at cafepress.com.au/geekactually
The Reel Junkies podcast can be found at weekendronin.com
Brad and Charlie (formerly of "Movie Fan House") are back, their new site is ReboundRadio.com and their new podcast is "Good Day Sir!"
Rachelle is over at The Funky Film Show, Thursdays on Radio Freemantle 107.9 FM or radiofreemantle.com
Find out about Josh's other site and to listen to his other show DLC Live go to RawDLC.com or follow him on Twitter @DoGM3At
Our show logo is by Josh Spencer over at Spencer Cartoons at  http://attackninja.blogspot.com
Our opening clip this week is from the 1995 film "Swimming With Sharks".
We close the show with 'Boyle Gets Dressed' from "The Guard" score by Calexico.