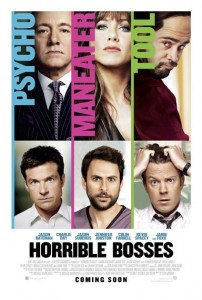 Everyone has had a bad boss, that boss that seemed to take a extra bit of enjoyment about making your life a living hell. If not, good for you. The rest of us however will find the concept of daydreaming about the death of their boss a little to close to home. "Horrible Bosses" takes three friends and decides to see what would happen if you were to go through with those daydreams.
Each friend has a different problem, Dale (Charlie Day) has a boss obsessed with conquering him sexually, Nick (Jason Bateman) has spent too much time trying to climb the corperate ladder and is being held back by a manipulating psychopath and Kurt (Jason Sudeikis) has lost his boss and has been lumped with a raging self obsessed coke head. All three agree that life would be better if these bosses ceased to exist. One night over a few too many drinks the decision is made and they set in motion the plan to commit three murders, killing each other's bosses, thus giving them their lives back.
Now, if this was all the movie had to offer it would fall flat on its face. However, like most good comedies this film is made by its cast. All three friends have been typecasted to play themselves and it works brilliantly, the chemistry is tight and each actor plays well off each other. There is a playful ad-libbed feel that keeps you going through what could have been a silly mess in the wrong hands.

However, the real gems of this film are the three screen veterans that fill in the roles of the horrible bosses. Kevin Spacey plays evil a little too well, like "maybe not acting" kind of acting. Colin Farrell puts in a jaw droppingly good performance as an ugly balding douch bag with some lines of dialog that will shock even the most un-pc viewers. However, the show is stolen by Jennifer Aniston who lets her hair down and plays an all out sex maniac, leaving her good girl reputation well and truly tarnished in the best kind of way.
As I said before, the power of all this acting talent holds this together, even as the film begins to show its few cracks if you look to deeply towards the later end of the film. The conclusion lacks some power and feels a little like an after thought. This comedy is easily this year's "The Hangover" and after the second one was ridiculously meh, it is nice to see a universally popular comedy that deserves the praise it is getting.
It's not perfect but it's the one film you don't have to wonder if friends will enjoy it. This is a great film to take anyone to. Unless they are your boss.
– Josh Philpott
"Horrible Bosses" is directed by Seth Gordon and stars Jason Bateman, Charlie Day, Jason Sudeikis, Kevin Spacey, Colin Farrell, Jennifer Aniston and Jamie Foxx. It is open in cinemas across Australia now.