Podcast: Play in new window | Download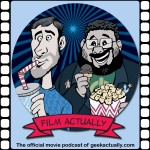 Hosts: David McVay, Josh Philpott & Richard Gray
This week the podcast continues the re-numbering, this is now episode 54 or 146 in old money. David and Josh are re-joined by Richard Gray for a pair of reviews. First up the new horror film "Final Destination 5" and then the new romantic comedy "Chalet Girl". They also take a look at the changes that George Lucas is making to the Blu-Ray releases of the Star Wars films and the clever little shorts from Marvel Pictures. All this and they still have time for a new Lists of Five: Five Sequels That Didn't Suck As Much As We Thought They Would. Film Actually is the official movie podcast of geekactually.com.
If you are an iTunes user, please leave a review. Your comments help us improve the show. This show carries an explicit tag due to infrequent coarse language.
*Note* The Film Actually show is taking a short break from live shows as we are currently moving the studio. The audio podcast will come out as normal during this time.
Listen or download it here or subscribe to it on iTunes
Make sure you check out our other fine podcast Geek Actually for all your tech and geek culture needs.
Normally you could watch us record Film actually live every Saturday starting at approximately 1.30pm (AEST UTC+10) at geekactually.com/live but not for the next couple of weeks.
What We've Been Watching:
A collection of other things we've been watching this week. We watch more than we can review so we use this time to catch up.
Feature Film Review
'Final Destination 5' directed by Steven Quale and written by Eric Heisserer. It stars Nicholas D'Agosto, Emma Bell, Miles Fisher, Ellen Wroe, Jacqueline MacInnes Wood, P.J. Byrne, Arlen Escarpeta, David Koechner, Courtney B. Vance and Tony Todd.
In Final Destination 5, Death is just as omnipresent as ever, and is unleashed after one man's premonition saves a group of coworkers from a terrifying suspension bridge collapse. But this group of unsuspecting souls was never supposed to survive, and, in a terrifying race against time, the ill-fated group frantically tries to discover a way to escape Death's sinister agenda. Source: Warner Bros.
Our Verdict: Far better than the fourth instalment. This was a lot of fun and well worth visiting for Final Destination veterans or newbies.
Watch the trailer here: http://trailers.apple.com/trailers/wb/finaldestination5/
Mini Feature Film Review
'Chalet Girl' directed by Phil Traill and written by Tom Williams. It stars Felicity Jones, Ed Westwick, Bill Nighy, Brooke Shields, Tamsin Egerton and Bill Bailey.
Pretty tomboy Kim Matthews, 19, used to be a champion skateboarder – but now she's stuck in a dead end job trying to support her Dad. Opportunity comes knocking in the form of a catering job in the one of the most exclusive chalets in the Alps. At first, Kim's baffled by this bizarre new world of posh people, champagne and skiing – but then she discovers snowboarding, and the chance to win some much-needed prize money at the big end-of-season competition. But before she can become a champion again, Kim's going to have to dig deep to overcome her fears. Hard enough, without the complicating factor of Jonny, her handsome – though spoken for – boss. Source: Official Site.
Our Verdict: A surprisingly fun and quirky british rom-com. The first half is stronger than the predictable finale but enjoyable throughout. Felicity Jones is charming and deserves the hype she is receiving.
Watch the trailer here: http://geekactually.com/2011/08/06/trailer-chalet-girl/
Entertainment Buzz
Changes to Star Wars for Blu-Ray. Some welcome, some not so much.
http://artsbeat.blogs.nytimes.com/2011/08/31/lucasfilm-confirms-change-to-blu-ray-release-of-return-of-the-jedi/ interesting considering…
http://savestarwars.com/lucasspeechagainstspecialedition.html
Marvel One Shot "The Consultant" hits the web and "Thor" Blu-Ray.
http://www.slashfilm.com/watch-marvel-short-film-the-consultant-linking-the-incredible-hulk-agent-coulsons-short-thor-dvd/
Lists of Five
This week our Lists of Five: Five Sequels That Didn't Suck As Much As We Thought They Would. There are times when you hear about a sequel coming out and you just die a little inside but then when you see the film you are pleasantly surprised that it didn't kill a small part of your soul. Here are five of those.
Just a reminder, because we never like to just make things easy on ourselves, our lists are not necessarily top five lists, they are more or a less a list of film recommendations within the theme of the list.
Feedback
We run through the week's listener feedback.
The Rest…
David's "My Year With Movies" blog is on Tumbr
Join us on our Facebook Fan Page: facebook.com/GeekActually or follow Geek Actually on Twitter @geekactually
Make sure you check out our new range of Geek Actually swag at cafepress.com.au/geekactually
The Reel Junkies podcast can be found at weekendronin.com
Brad and Charlie (formerly of "Movie Fan House") are back, their new site is ReboundRadio.com and their new podcast is "Good Day Sir!"
Rachelle is over at The Funky Film Show, Thursdays on Radio Freemantle 107.9 FM or radiofreemantle.com
Find out about Josh's other site and to listen to his other show "DLC Live" go to RawDLC.com or follow him on Twitter @DoGM3At
Find more by Richard Gray by visiting theReelBits.com or follow him on Twitter @DVDbits
Our show logo is by Josh Spencer over at Spencer Cartoons at  http://attackninja.blogspot.com
Our opening clip this week is from "Final Destination 5".
We close the show with a track from the "Final Destination" score by Shirley Walker.