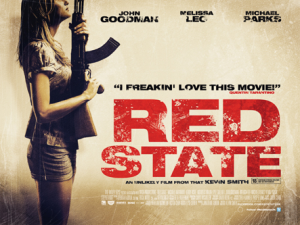 Curious Film is offering 10 readers (5 in Sydney and 5 in Melbourne) of Geek Actually a 'money can't buy' opportunity to attend a super exclusive private screening of Kevin Smith's new film "Red State". Screenings are in Sydney and Melbourne between September 13th and September 21st. Winners will be notified of exact time and place.
From cult writer/director KEVIN SMITH ("Clerks", "Dogma" & "Chasing Amy") comes his tenth film, the hotly anticipated "RED STATE", an utterly unique, intense thriller hell-bent on leaving audiences feeling uncomfortable, tense, dazed and never knowing what's going to happen next. And that's just the first 10 minutes!
In Middle America, three horny teenagers travel to isolated Cooper's Dell after responding to an older woman's online invitation for sex. However, their schoolboy fantasies turn sinister as Christian extremists led by the twisted but charismatic preacher Abin Cooper (Michael Parks) holds them captive in his compound known as the Five Points Church. They hadn't quite expected this kind of the devil's business! As the Pastor and his congregation embark on a reign of unholy terror forcing the boys to witness executions before being prepared for their own death, they have to contend with the arrival of Federal Agent Joseph Keenan (John Goodman) and his team who are armed, dangerous and ready to do anything to bring them down. But will they get to the preacher's disciples before the Apocalypse?
IF YOU WANT TO ENTER – CLICK HERE
The competition closes Tuesday the 13th of September 2011, so be quick! Five winners will be drawn at random from the Sydney submissions and five from the Melbourne submissions.