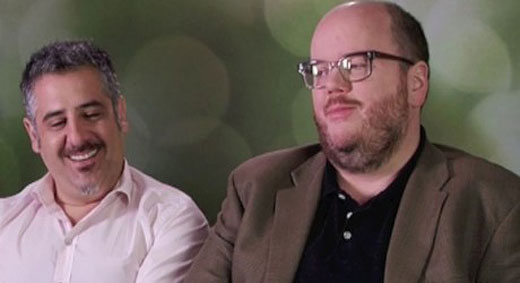 The directors of Crazy Stupid Love, Glenn Ficarra and John Requa, were in Sydney last week to promote the release of their latest film in Australia. We also got a chance to ask them about their next project, Pharm Girl, set to star Reese Witherspoon.
At forty something, straight-laced Cal Weaver (Steve Carell) is living the dream—good job, nice house, great kids and marriage to his high school sweetheart. But when Cal learns that his wife, Emily (Julianne Moore), has cheated on him and wants a divorce, his "perfect" life quickly unravels. In today's single world, Cal, who hasn't dated in decades, and is taken on as wingman and protégé to handsome lothario Jacob Palmer (Ryan Gosling). It also  stars Emma Stone as a love interest for Gosling.
This is the second directorial effort from the duo, following last year's brilliant I Love You Philip Morris. They are also behind the scripts for Bad Santa, Cats & Dogs andBad News Bears.
We need to thank Roadshow for making interview opportunity possible.
Crazy Stupid Love is released in Australia on 29 September 2011 from Roadshow Films.
About The League
In the beginning there was chaos, a vast information network that provided few islands of hope. Then there was a light, a shimmering hope in the darkness. A portal for lovers of the wonders of celluloid and the entertainment industry. Then there came another, and another ushering in a golden age of wonders the likes the world had never seen. By day, they live out their lives as the humble David McVay of Geek Actually, Jorge Duran of The Spotlight Report, Richard Gray of The Reel Bits, Dave Longo of Damn Good Cup and Josh Philpott of Hip Hop Net. But when the signal goes out they come together as one! The League assembles! Tremble all who dare stand in its path!
This article was originally published on The Reel Bits on Sept 19th 2011