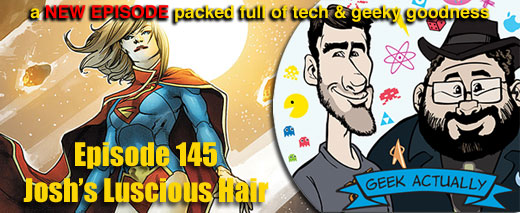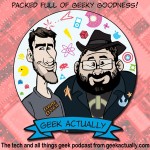 Hosted by: David McVay, Josh Philpott & Richard Gray
We're Back!!! New studio, same show! This week on Geek Actually, the strange case of Percy Foster, fear of Wi Fi, iinet announces NBN pricing, Thunderbolt comes to PC,  Gumby tries to rob a 7-11 and the 7 pound Gummi brain. All this plus the picks of the week, listener feedback and Josh gives us a big games rundown. Enjoy.
Geek Actually is the fusion of the old Tech Actually and Geek Actually After Show podcasts. All the tech and geek goodness that you have come to expect from the old shows wrapped up and made easier to swallow as one simple, little, tasty podcast. DeltaKnight (AKA DAvid Murray) continues to supply us with some of the geekiest stories on the web.
Geek Actually is recorded live on Saturdays around 12pm (AEST UTC+10). Go to geekactually.com/live to watch it live.
Your show links follow:
Feedback
DeltaKnight told us about the Post-It War, we have pictures.
http://www.guardian.co.uk/artanddesign/2011/aug/30/paris-post-it-wars-french
Mirren Told us about this awesome airline with a sense of humour.
http://www.southafrica.to/transport/Airlines/Kulula-flights/Kulula-humour.php5
Josh gives us a rundown of some of the new game hotness that he has been playing and reviewing on DLC Live.
The Rest
The weird tale of Percy Foster
http://www.dailytelegraph.com.au/news/weird/gordon-ramsays-dwarf-porn-double-found-dead-in-a-badger-den-in-wales/story-e6frev20-1226137951576
Afraid of WiFi? Here's the place for you.
http://www.gizmodo.com.au/2011/09/people-afraid-of-wi-fi-have-found-a-town-that-bans-wireless-signals/
So we are getting an R18+ rating for games, what happens next?
http://www.kotaku.com.au/2011/09/re-classification-laid-bare-what-does-r18-mean-for-you/
Gamers crack the AIDS enzyme puzzle
http://www.smh.com.au/digital-life/games/online-gamers-crack-aids-enzyme-puzzle-20110919-1kgq2.html
iinet announces NBN pricing… sounds good to me but low usage people might hurt a little.
http://www.gizmodo.com.au/2011/09/iinet-announces-nbn-plans/
Gumby tries to Rob a 7-11… and leaves with less than he came in with… WTF!
http://www.geekologie.com/2011/09/gumby-tries-to-rob-a-711-fails-miserably.php
The Pirate Party wins a seat in German parliament.
http://www.itnews.com.au/News/272377,pirate-party-win-seats-in-german-election.aspx
It's about time, Thunderbolt comes to the PC.
http://www.gizmodo.com.au/2011/09/thunderbolt-is-coming-to-windows-in-2012/
Windows 8 has an interesting feature I want to know more about…
http://www.gizmodo.com.au/2011/09/everything-you-need-to-know-about-todays-windows-8-news/
Scientists discover a Tattooine style planet.
http://www.geekologie.com/2011/09/tatooine-planet-with-two-suns-discovered.php
Weird Food!
How far can they take a two bit Star Wars character? Check it out.
http://www.geeksaresexy.net/2011/09/14/porkins-pork-skins-pic/
Now I like a Gummi snack, but this might be going too far!
http://www.geekologie.com/2011/09/im-puking-already-livesize-gummi-brain.php
Geek Picks of the Week
Every week David, Josh and/or DeltaKnight and Richard will give you their geek picks of the week, these could be anything from iPhone apps to a great sandwich recipe (more likely to be an app though).
This week Richard is showing off his "Cowboys and Aliens" laser keyboard and Josh tells us about his new NetBook, an Acer Aspire 1. David and Richard also recommend Star Wars on Blu-Ray and DC Comics new reboot of their entire range of comics with 52 new issue number 1s. The new Supergirl is hot!
As always this episode carries an explicit tag due to possible bad language.
Listen or download it here or subscribe to it on iTunes
Podcast: Play in new window | Download
If you have any comments about the episode or really geeky links, please leave them in the comments field below or email us at feedback@geekactually.com or send us a voicemail at 02 8011 3167 or Skype ID: geekactually (If you'd prefer to send an mp3 voice mail, mail it to the email address above and make sure the file is under 10mb.).
If you are an iTunes user, please leave us a review or a rating.
Like to geek out at the movies? Listen to our movie show, Film Actually. You can listen to it on the site or subscribe to it on iTunes.
Join us on our Facebook Fan Page: facebook.com/GeekActually or follow Geek Actually on Twitter @geekactually
Make sure you check out our new range of Geek Actually swag at cafepress.com.au/geekactually
Find out more about what Richard does by visiting theReelBits.com or follow him on Twitter @DVDbits
Find out about Josh's other site and to listen to his other show DLC Live go to RawDLC.com or follow him on Twitter @DoGM3At
Our cover art by Josh Spencer attackninja.blogspot.com and our opening theme is by Grant Noy.
GEEK ON!