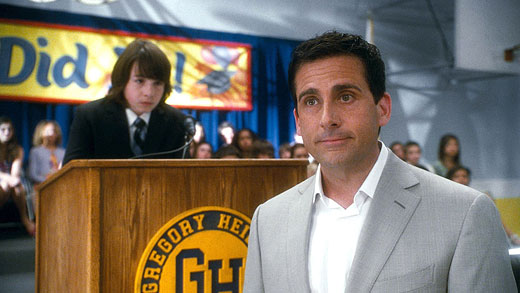 My good friend and fellow League member Richard Gray at The Reel Bits had the opportunity to interview Steve Carrell at the "Crazy Stupid Love" junket and it is well worth reading.
Richard Gray Wrote:
Steve Carell is a very busy man. Having just finished a historic seven-year run on TV's The Office, Carell is not one to rest on his laurels. Building on a film career that began with small but memorable roles in Bruce Almightyand Anchorman: The Legend of Ron Burgundy, it was with The 40 Year Old Virginthat his status as a leading man in comedy began. Today he continues his film career as both an actor and heading his Carousel Productions, where he served as producer forCrazy Stupid Love, and has recently launched a television division. As such, he has little time for tourism. Looking out the window of a hotel room at the Sydney Harbour Bridge, he comments "This is as much sightseeing as I'm doing".
With Crazy Stupid Love, Carell plays a man who is on the verge of divorce with his wife (Julianne Moore) after decades of marriage, and chooses to try and get over her with the help of ladies man Jacob (Ryan Gosling, Drive). "I thought it was a great script", Carell notes in response to his dual star/producer duties. "I thought it was different. It didn't read to me like a typical romantic comedy, when on the third page the character jumps out of a moving car because he can't engage in a discussion with his soon to be ex-wife…It was funny, and also heartbreaking at the same time. So that really set the tone in my mind as to what the movie would be".
Read the rest by shooting over to The Reel Bits now.