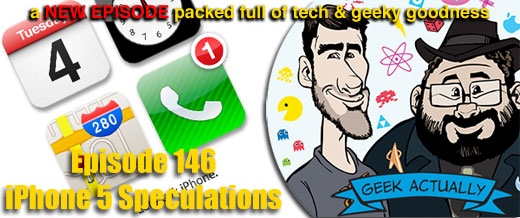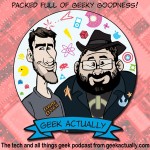 Hosted by: David McVay, Josh Philpott, Richard Gray & David Longo
This week on Geek Actually there are far too many geeks for one little studio! David, Josh and Richard are joined by Geek Actually newbie David Longo (damngoodcup.com) for a look at all the rumours that surround the upcoming Apple announcement. The boys also take a look at other geeky stories including a robot runner in the 2012 Olympic Games torch relay,  clip on 3D glasses, circuit board watches and pornstars that review video games. All this plus an update on the DC comics reboot and some listener feedback. Enjoy.
Geek Actually is the fusion of the old Tech Actually and Geek Actually After Show podcasts. All the tech and geek goodness that you have come to expect from the old shows wrapped up and made easier to swallow as one simple, little, tasty podcast. DeltaKnight (AKA DAvid Murray) continues to supply us with some of the geekiest stories on the web.
Geek Actually is recorded live on Saturdays around 12pm (AEDST UTC+11). Go to geekactually.com/live to watch it live or you can also now watch the live show on Facebook – Click here to watch.
Your show links follow:
Feedback
Matt wanted us to know about Mike Daisey's tales of woe about Apple.
http://m.brisbanetimes.com.au/technology/technology-news/the-dark-side-of-apple-one-mans-monologue-of-misery-20110930-1l0hg.html
Apple has confirmed it, October 4th they announce iPhone news. But what could they be releasing? Let the rumour and speculation begin.
An open table discussion about what might be announced on October 4th. Will it be an updated iPhone 4 or will it be an iPhone 5? What else will be announced?
The Rest
Robot child to be a torch bearer…weird.
http://www.geekologie.com/2011/09/over-my-dead-body-robot-child-nominated.php
Clip on 3D glasses, about time.
http://www.gizmodo.com.au/2011/09/clip-on-3d-glasses-should-not-excite-me-as-much-as-they-do/
Porn stars and game reviews, genius!
http://www.geekologie.com/2011/09/p0rn-stars-opening-gamingadult-content-s.php
Now here is something you don't see every day.
http://www.geekologie.com/2011/09/of-course-he-is-guy-playing-star-wars-th.php
Did Samsung copy Apple, lost of opinions on either side but take a look at this.
http://www.tuaw.com/2011/09/28/no-comment-proof-that-samsung-shamelessly-copies-apple/
Circuit Board Watches, must have.
http://www.gizmodo.com.au/2011/09/wear-your-geekiness-with-these-circuit-board-watches/
Weird Food!
Wampa Arm Cake, Mmmmm.
http://www.geeksaresexy.net/2011/09/28/oh-yummy-wampa-arm-cake-pic/
And to finish off the show we drop Picks of the Week and David and Richard give an update to the DC Comics reboot, "The New 52".
As always this episode carries an explicit tag due to possible bad language.
Listen or download it here or subscribe to it on iTunes
Podcast: Play in new window | Download
If you have any comments about the episode or really geeky links, please leave them in the comments field below or email us at feedback@geekactually.com or send us a voicemail at 02 8011 3167 or Skype ID: geekactually (If you'd prefer to send an mp3 voice mail, mail it to the email address above and make sure the file is under 10mb.).