Podcast: Play in new window | Download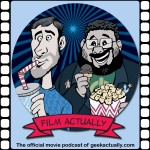 Hosts: David McVay, Josh Philpott, Richard Gray & David Longo
This week David, Josh and Richard are joined by David Longo (DamnGoodCup) for a review the new film "Crazy, Stupid, Love.". The boys also check out a little entertainment news including more "The Man of Steel" casting, "Mortal Kombat" web series spawns a rebooted movie and the trailers for "The Human Centipede 2 (Full Sequence) and "John Dies At The End". Plus a brand new Lists of Five – Five of the Most Quotable Films. Film Actually is the official movie podcast of geekactually.com.
Just a reminder that we continue the re-numbering of the episodes. This show is officially episode 58 but if you have been a long time listener you might know it better as episode 150. In a couple of weeks all past episode of Film actually will be re-numbered from 1 onwards, sorry about any confusion or inconvenience.
If you are an iTunes user, please leave a review. Your comments help us improve the show.
This show carries an explicit tag due to infrequent coarse language.
Listen or download it here or subscribe to it on iTunes
Make sure you check out our other fine podcast Geek Actually for all your tech and geek culture needs.
Watch us record Film Actually live every Saturday starting at approximately 1.30pm (AEST UTC+10) at geekactually.com/live.
What We've Been Watching:
A collection of other things we've been watching this week. David Longo watched "The Fog" old and new and "Norwegian Wood". Richard watched "Higher Ground", "Fast Times at Ridgemont High" and "Class". Josh watched "22 Bullets" directed by Richard Barry and starring Jean Reno and gives us a mini review. This week the two David M. & David L. got to see "Tinker Tailor Soldier Spy" and David M. and Richard got to see the remake of "Footloose".
Feature Film Review
'Crazy Stupid Love' directed by Glenn Ficarra and John Requa. It is written by Dan Fogelman. It stars Steve Carrell, Ryan Gosling, Julianne Moore, Emma Stone, Analeigh Tipton, Jonah Bobo, Joey King, Marisa Tomei and Kevin Bacon.
At forty-something, straight-laced Cal Weaver is living the dream – good job, nice house, great kids and marriage to his high school sweetheart. But when Cal learns that his wife, Emily, has cheated on him and wants a divorce, his "perfect" life quickly unravels. Worse, in today's single world, Cal, who hasn't dated in decades, stands out as the epitome of un-smooth. Now spending his free evenings sulking alone at a local bar, the hapless Cal is taken on as wingman and protégé to handsome, thirty-something player Jacob Palmer. Source: Warner Bros.
Watch the trailer here: http://trailers.apple.com/trailers/wb/crazystupidlove/
Entertainment Buzz
Oh my god it worked, Kevin Tancharoen gets his "Mortal Kombat" movie!
http://www.deadline.com/2011/09/new-line-reboots-mortal-kombat/
Before this film gets banned everywhere, the trailer for "The Human Centipede 2".
http://geekactually.com/2011/09/27/trailer-poster-the-human-centipede-2-full-sequence/
Ayelet Zurer replaces Julia Ormond as Lara Lor-Van in "The Man of Steel".
http://geekactually.com/2011/09/27/ayelet-zurer-to-play-lara-lor-van-in-the-man-of-steel/
Really, after the last one, do we really need "Scream 5"?
http://www.movieweb.com/news/exclusive-scream-5-is-happening-says-wes-craven
Let's finish the news with a trailer, Don Coscarelli's "John Dies At The End"
http://geekactually.com/2011/09/27/trailer-john-dies-at-the-end/
Lists of Five
This week our Lists of Five: Five of the Most Quotable Films. Find yourself randomly quoting films for no apparent reason, so do we and these are some of the films that did this to us.
Just a reminder, because we never like to just make things easy on ourselves, our lists are not necessarily top five lists, they are more or a less a list of film recommendations within the theme of the list.
The Rest…
David's "My Year With Movies" blog is on Tumbr
Join us on our Facebook Fan Page: facebook.com/GeekActually or follow Geek Actually on Twitter @geekactually
Make sure you check out our new range of Geek Actually swag at cafepress.com.au/geekactually
The Reel Junkies podcast can be found at weekendronin.com
Brad and Charlie (formerly of "Movie Fan House") are back, their new site is ReboundRadio.com and their new podcast is "Good Day Sir!"
Rachelle is over at The Funky Film Show, Thursdays on Radio Freemantle 107.9 FM or radiofreemantle.com
Find out about Josh's other site and to listen to his other show "DLC Live" go to RawDLC.com or follow him on Twitter @DoGM3At
Find more by Richard Gray by visiting theReelBits.com or follow him on Twitter @DVDbits
Find more of David Longo by visiting DamnGoodCup.com or follow him on Twitter @davelongo
Our show logo is by Josh Spencer over at Spencer Cartoons at  http://attackninja.blogspot.com
The opening clip is from the 1990 film "Bruce Almighty".
The closing music is "Pompeii" by E. S. Posthumous buy the album Unearthed on Amazon.