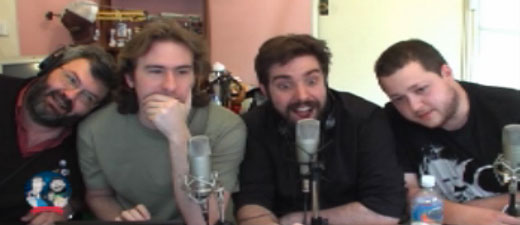 Here are the live show recordings of this week's "Geek Actually" and "Film Actually" podcasts. The show was recorded live on October 1st, 2011. Because the shows are live, you get them here with all the mistakes intact and this week there is a big mistake. A setting wasn't set quite right and the audio for the shows was coming from the live mic on the main computer rather than coming off the mixer which is how we usually do it, so the sound is terrible and the clips that are played have no live sound. For a much better listening experience listen to the audio podcasts for these episodes. As always, these videos are presented here as a record of the live session and not as a reflection of the final show.
The video shows are now watchable on iOS devices as Ustream's embeds are now compatible.
The Geek Actually podcasts are recorded live every Saturday from 12pm (AEST) or UTC +10 at geekactually.com/live
 – You can now watch us live on Facebook by clicking here.
Check the individual audio show posts for the show notes. Watch the videos below.
Geek Actually Ep146 – iPhone 5 Speculations
This week on Geek Actually there are far too many geeks for one little studio! David, Josh and Richard are joined by Geek Actually newbie David Longo (damngoodcup.com) for a look at all the rumours that surround the upcoming Apple announcement. The boys also take a look at other geeky stories including a robot runner in the 2012 Olympic Games torch relay, clip on 3D glasses, circuit board watches and pornstars that review video games. All this plus an update on the DC comics reboot and some listener feedback. Enjoy.
Film Actually Ep058 (150) – Crazy Stupid Love
This week David, Josh and Richard are joined by David Longo (damngoodcup.com) for a review the new film "Crazy, Stupid, Love.". The boys also check out a little entertainment news including more "The Man of Steel" casting, "Mortal Kombat" web series spawns a rebooted movie and the trailers for "The Human Centipede 2 (Full Sequence) and "John Dies At The End". Plus a brand new Lists of Five – Five of the Most Quotable Films. Film Actually is the official movie podcast of geekactually.com.
All Geek Actually shows carry an explicit tag due to infrequent coarse language.
You can subscribe to the audio podcasts by searching for "Film Actually" or "Geek Actually" in iTunes
You can send feedback for Film Actually to feedback@filmactually.com. You can also leave us a voice mail to play on the show by calling (Sydney number) 02 8011 3167 (or Skype ID: geekactually)
Join us on our Facebook Fan Page: facebook.com/GeekActually
Follow us on Twitter: David is @davidmcvay, Josh is @DoGM3At, Geek Actually is @geekactually, Richard is @DVDbits and David Logo is @davelongo
Get your Geek Actually swag at cafepress.com.au/geekactually
For information on the Unofficial Geek Actually Movie Club screening times and titles, visit our Facebook Page. Geek Actually logos by Josh Spencer (attackninja.blogspot.com) – Old Tech Actually Theme by Grant Noy – Geek Actually theme arranged by David McVay.