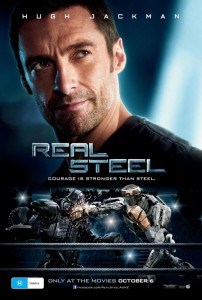 The League recently attended the World Premiere of DreamWorks' "Real Steel" on the 28th of September and had a chance to chat with the film's star, Hugh Jackman, on the red carpet. Mr. Jackman was very gracious with his time and answered questions ranging from what inspired him to make the film to what it was like working with boxing legend Sugar Ray Leonard. We even got a pseudo update on "The Wolverine" and his preference of stage or screen acting.
Real Steel is a gritty, white-knuckle, action ride set in the near-future where the sport of boxing has gone high-tech, and the boxers are robots.
Below is a selection of photos from the night. Click on any photo to enlarge.
We need to thank Disney and Lantern Group for access to the red carpet and for making this opportunity possible.
For more photos and coverage, check out The Reel Bits, Damn Good Cup and Spotlight Report. Photos for this piece by Richard Gray and Jorge Duran.
About The League
In the beginning there was chaos, a vast information network that provided few islands of hope. Then there was a light, a shimmering hope in the darkness. A portal for lovers of the wonders of celluloid and the entertainment industry. Then there came another, and another ushering in a golden age of wonders the likes the world had never seen. By day, they live out their lives as the humble David McVay of Geek Actually, Jorge Duran of The Spotlight Report, Richard Gray of The Reel Bits, Dave Longo of Damn Good Cup and Josh Philpott of Hip Hop Net. But when the signal goes out they come together as one! The League assembles! Tremble all who dare stand in its path!