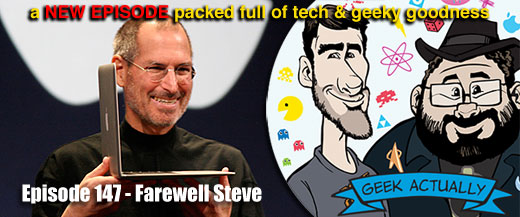 Podcast: Play in new window | Download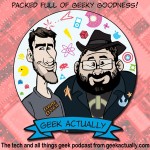 Hosted by: David McVay, Josh Philpott & Richard Gray
This week on Geek Actually David, Josh and Richard pay their respects to Steve Jobs and discuss the man and his accomplishments. They also take a look at the latest Apple announcement and the launch of iPhone 4S and the amazing Siri. This plus Josh's opinions on Id's new game "Rage" and Sony's new, amazing Playstation commercial and listener feedback. Enjoy.
Geek Actually is the fusion of the old Tech Actually and Geek Actually After Show podcasts. All the tech and geek goodness that you have come to expect from the old shows wrapped up and made easier to swallow as one simple, little, tasty podcast. DeltaKnight (AKA DAvid Murray) continues to supply us with some of the geekiest stories on the web.
Geek Actually is recorded live on Saturdays around 12pm (AEDST UTC+11). Go to geekactually.com/live to watch it live or you can also now watch the live show on Facebook – Click here to watch. Your show links follow:
Apple CEO Steve Jobs Dies at 56
Steve Jobs Passes Away at age 56.
http://geekactually.com/2011/10/06/steve-jobs-passes-away-at-56/
The Think Different ad campaign recut by Gizmodo as a tribute to Steve Jobs.
http://www.gizmodo.com.au/2011/10/the-steve-jobs-think-different-tribute-video/
Gizmodo's reasons for loving Steve Jobs.
http://www.gizmodo.com.au/2011/10/steve-jobs-is-dead/
Words of Wisdom – Stanford Uni. 2005 Commencement Address by Steve Jobs.
http://www.youtube.com/watch?v=UF8uR6Z6KLc&feature=player_embedded
Apple Announces iPhone 4S
Apple announces iPhone 4S with Siri
http://www.apple.com/au/iphone/
Did Apple predict Siri 24 years ago?
http://www.gizmodo.com.au/2011/10/apple-predicted-siri-24-years-ago-so-perfectly-its-scary/
Gizmodo has put up an article about this being Microsoft's chance to catch up, lol good luck with that.
http://www.gizmodo.com.au/2011/10/the-iphone-4s-is-microsofts-chance-to-catch-up-to-apple/
Josh has some opinions about ID's new game Rage.
And just for fun…
New games as old one…so cool.
http://www.geekologie.com/2011/10/favorite-new-games-as-old-nes-cartridges.php
Feedback
SnakeAus Matt White shares his birthday cake with us for geek food.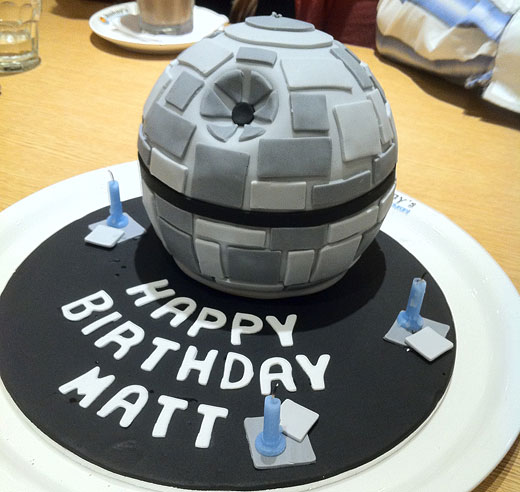 Tristan wanted us to know about the new, absolutely badass Playstation Ad.
http://www.youtube.com/watch?v=mdWkKKSckNk
And I want to thank Tristan for notifying me of the Passing of Steve Jobs. I rely on all of my listeners to keep me informed and honest :-)
As always this episode carries an explicit tag due to possible bad language.
Listen or download it here or subscribe to it on iTunes
If you have any comments about the episode or really geeky links, please leave them in the comments field below or email us at feedback@geekactually.com or send us a voicemail at 02 8011 3167 or Skype ID: geekactually (If you'd prefer to send an mp3 voice mail, mail it to the email address above and make sure the file is under 10mb.).
If you are an iTunes user, please leave us a review or a rating.
Like to geek out at the movies? Listen to our movie show, Film Actually. You can listen to it on the site or subscribe to it on iTunes.
Join us on our Facebook Fan Page: facebook.com/GeekActually or follow Geek Actually on Twitter @geekactually
Make sure you check out our new range of Geek Actually swag at cafepress.com.au/geekactually
Find out more about what Richard does by visiting theReelBits.com or follow him on Twitter @DVDbits
Find out about Josh's other site and to listen to his other show DLC Live go to RawDLC.com or follow him on Twitter @DoGM3At
Our cover art by Josh Spencer attackninja.blogspot.com and our opening theme is by Grant Noy.
GEEK ON!