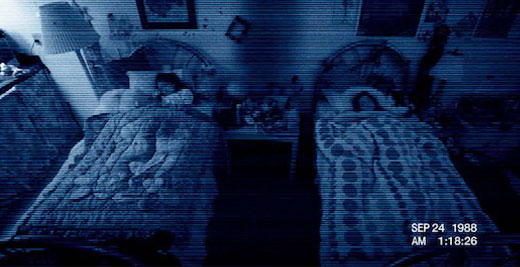 Remember that "Tweet To See It First" campaign we talked about back in September? Well out of the 20 cities worldwide to get selected to see the film first, Melbourne was one of them! Congratulations all you spooked out Mebournians.
This is if official word:
On the 28th of September Paramount Pictures launched the first ever global "Tweet To See It First" campaign for the third instalment of the thriller franchise, PARANORMAL ACTIVITY 3. The campaign was open to people around the globe to tweet for their city to be one of the top 20 cities to see the film first. The results have been announced and Melbourne came in at number five. The top 20 cities will premiere the film on October 18th.
Okay what do you Melbourne people do now? I'm glad you asked. Here are your instructions:
Now that voting has closed, fans can go to www.ParanormalMovie.com and RSVP for the Melbourne screening which will be held on Tuesday, 18th October at 9.30pm at Hoyts, Victoria Gardens Shopping Centre on Victoria Street, Richmond. People who RSVP can line up from 7.00pm at the cinema; where there will be a host of activities including music and the chance to win prizes.
Okay, for those readers that don't live in Melbourne, here are the other winning cities… In fact, here is the official press statement from Paramount Pictures Australia:
One-week before the worldwide release of PARANORMAL ACTIVITY 3 fans from every corner of the globe have participated in Paramount's first ever "Tweet To See It First" campaign; tweeting to earn the chance to see the highly anticipated third installment first on October 18th. 

The top ranking cities across the world who earned the right to have an advance sneak preview of PARANORMAL ACTIVITY 3 include: Houston, TX; Vancouver, BC Canada; Phoenix, AZ; San Antonio, TX; Melbourne, VIC Australia; Fresno, CA; Ciudad de Panama, Panama; Los Angeles, CA; New York, NY; Ciudad de Mexico, Mexico; Orlando, FL; Dallas, TX; Toronto, ON Canada; Tel Aviv, Israel; Chicago, IL; Sao Paulo, Brazil; Austin, TX; Miami, FL; London UK; and Sheffield UK.

'The response to the 'Tweet to See it First' campaign proved to us the immense global strength of the franchise, with fans from as far as Panama and Tel Aviv to San Antonio and Vancouver competing to see this film first. The 3rd installment is as scary and entertaining as the first and we're confident that these advance screenings will spark strong social conversation around the world in advance of the film's opening." said Rob Moore, Vice Chairman of Paramount Pictures.

To RSVP for a chance to be among the first to see PARANORMAL ACTIVITY 3 at the special screenings, fans from the selected cities can visit the official site at www.ParanormalMovie.com.

Follow PARANORMAL ACTIVITY 3 on Twitter at www.Twitter.com/TweetYourScream for audience reactions and important announcements.

PARANORMAL ACTIVITY 3 is produced by Jason Blum, Oren Peli and Steven Schneider and directed by Henry Joost and Ariel Schulman from a screenplay by Christopher Landon. 
For the rest of us, PARANORMAL ACTIVITY 3 opens in Australian cinemas on Thursday 20th October.