Podcast: Play in new window | Download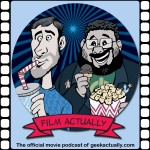 Hosts: David McVay, Josh Philpott & Richard Gray
This week David, Josh and Richard review another pair of new releases, first the new prequel "The Thing" and then Kevin Smith's controversial "Red State". Plus a the new trailer for "The Avengers" and a brand new Lists of Five – Five Great Films With Religion As a Core Element. Film Actually is the official movie podcast of geekactually.com.
Just a reminder that we continue the re-numbering of the episodes. This show is officially episode 59 but if you have been a long time listener you might know it better as episode 151. In a couple of weeks all past episodes of Film actually will be re-numbered from 1 onwards, sorry about any confusion or inconvenience.
If you are an iTunes user, please leave a review. Your comments help us improve the show.
This show carries an explicit tag due to infrequent coarse language.
Listen or download it here or subscribe to it on iTunes
Make sure you check out our other fine podcast Geek Actually for all your tech and geek culture needs.
Watch us record Film Actually live every Saturday starting at approximately 1.30pm (AEDST UTC+11) at geekactually.com/live.
We are going to be skipping a formal news section again for the second week because of the double review but we couldn't let this slide by, The new trailer for The Avengers came out and here it is. http://geekactually.com/2011/10/12/new-trailer-the-avengers/
What We've Been Watching
A collection of other things we've been watching this week. Josh has been busy gaming but continues to make his way through the TV shows "Monster" and "American Gothic", he also watched the film "Franklin". Richard got deep and meaningful with "We Need to Talk About Kevin" & "The Skin I Live In" and then rounded his week off with "Howard The Duck"! David Loved "Burning Man" and "Batman Year One" but was not so impressed with "Shark Night", the week was rounded off with Billy Zane in "The Phantom"!
Feature Film Review 1
'The Thing' directed by Matthijs van Heijningen Jr. It is written by Eric Heisserer and based on the short story "Who Goes There?" by John W. Campbell Jr. It stars Mary Elizabeth Winstead, Joel Edgerton, Ulrich Thomsen and Eric Christian Olsen.
Paleontologist Kate Lloyd has travels to Antarctica to join a Norwegian scientific team that has stumbled across an extraterrestrial ship buried in the ice, they discover an organism that seems to have died in the crash eons ago. But it is about to wake up. Kate must join with American pilot, Carter, to try and keep it from killing them off one at a time. And in this vast, intense land, a parasite that can mimic anything it touches will pit human against human as it tries to survive and flourish. The Thing serves as a prequel to John Carpenter's classic 1982 film of the same name. Source: modified and shortened from Universal Pictures
Our Verdict: An admirable prequel that isn't as good as the 1982 John Carpenter film but makes a nice companion piece to that film.
Watch the trailer here: http://trailers.apple.com/trailers/universal/thething/
Feature Film Review 2
'Red State' written and directed by Kevin Smith. It stars Michael Parks, Melissa Leo, John Goodman, Michael Angarano, Nicholas Braun, Kyle Gallner and Kerry Bishé.
Red State unfolds in a small town dominated by a fundamentalist preacher, Abin Cooper. It tells the story of three high school boys who, on their way to an internet arranged meeting with a woman, end up crossing paths with Cooper. The encounter sets into motion a series of events that causes all hell to break loose. Source: SModcast Pictures.
Our Verdict: Completely split on this one, listen to the episode to hear arguments from both camps.
Watch the trailer here: http://www.youtube.com/watch?v=uJ1v6oFHefc
Lists of Five
This week our Lists of Five: Five Great Films With Religion As a Core Element. After our mutual feelings of disgust over "The Passion of the Christ" it got us thinking, what are some of the great religious films, or films that use religion as a core element? Here are our five.
Just a reminder, because we never like to just make things easy on ourselves, our lists are not necessarily top five lists, they are more or a less a list of film recommendations within the theme of the list.
Feedback
Damon wrote to lets us know about the woman who is suing the "Drive" producers because of a false advertising.
http://www.theage.com.au/entertainment/movies/misleading-trailer-leads-to-law-suit-20111011-1lj2z.html
The Rest…
David's "My Year With Movies" blog is on Tumbr
Join us on our Facebook Fan Page: facebook.com/GeekActually or follow Geek Actually on Twitter @geekactually
Make sure you check out our new range of Geek Actually swag at cafepress.com.au/geekactually
The Reel Junkies podcast can be found at weekendronin.com
Brad and Charlie (formerly of "Movie Fan House") are back, their new site is ReboundRadio.com and their new podcasts are "Good Day Sir!" and "Movie Match Up"
Rachelle is over at The Funky Film Show, Thursdays on Radio Freemantle 107.9 FM or radiofreemantle.com
Find out more about Josh's other stuff by visiting HipHopNetOnline.com or listen to his other show "DLC Live" go to RawDLC.com or follow him on Twitter @DoGM3At
Find more by Richard Gray by visiting theReelBits.com or follow him on Twitter @DVDbits
Our show logo is by Josh Spencer over at Spencer Cartoons at  http://attackninja.blogspot.com
The opening clip is from "Red State".
The closing music is Ennio Morricone's haunting score to the 1982 "The Thing".